Ancon App shortlisted in industry awards
Ancon's new smartphone App that makes choosing the right cavity wall tie for any application both quick and easy has been shortlisted for the prestigious 2013 Build It industry awards.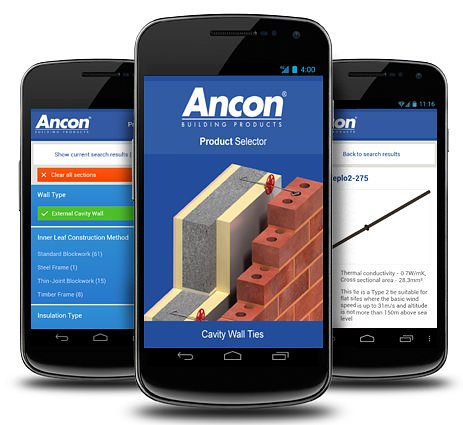 Developed by structural fixing specialist, Ancon, the new App provides solutions for all standard masonry and thin-joint blockwork, steel frame and timber frame constructions, and cuts out much of the complicated calculation work normally required around product-specific issues, such as tie length, embedment depth and tie type to PD 6697.
Users of the App, which is available for both iPhone and Android handsets, answer a series of simple multiple-choice questions about wall construction, cavity width, building type and height, and are presented with the ideal wall tie, or ties, from Ancon's full market-leading range. The solutions come with all the information needed to draft the final specification, from u-value calculation data to geographical restrictions and insulation clip type.
The Ancon App is one of three products to be shortlisted for the Best App/Online Tool Award in the 2013 Build-It Awards, and follows success for the company in the 2012 Awards, where its ground-breaking low thermal conductivity TeploTie wall tie was voted Best Innovation in Insulation.
Judged by a panel of industry experts, the Build It Awards celebrates the latest developments in the self-build market.
Ancon's Laura Aston-Bowes said,
We want to ensure that customers can access the information they need about our products quickly and easily, whether in the office or on the move. With smart phones and tablets growing in popularity, an App was an obvious choice. Being shortlisted in this latest Award category means that the industry clearly recognises the benefits this new App will bring to anyone involved in the sector, from architects to installers.
The new App is free to download from the App Store for all iPhone and iPad users, or from the Google Play Store for Android handsets and tablets.
Desktop users can access a web-based version of the product selector here.
As a future-oriented, innovative company Leviat focuses on the ever-changing requirements of the industry, and our latest development combines the portfolio of Ancon and Halfen Tension Systems to ensure we meet the individual requirements of our customers.
Materials, products and services define how our world is built and is why Leviat is gearing up to sponsor and showcase an incredible line-up of innovative solutions from its world leading range of connecting, fixing and anchoring products at Futurebuild 2023.