Ancon Apprentice shortlisted for prestigious 'Apprentice of the Year' Award
Ancon Apprentice Niamh Farrell has made the shortlist for the competitive 'Apprentice of the Year' category, at the 2020 Made in Sheffield manufacturing awards; a biennial ceremony celebrating excellence in manufacturing in the Sheffield city region.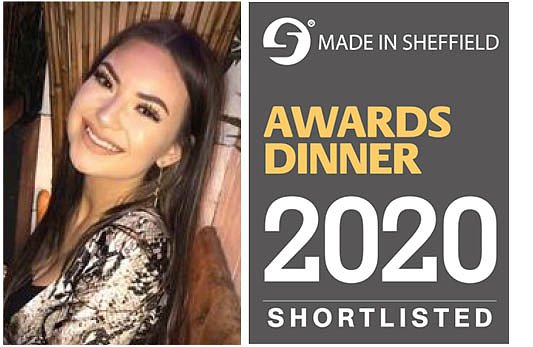 20 year old Niamh began her role with Ancon as a Commercial Team Apprentice in 2018, and passed the apprenticeship late last year with an outstanding Distinction grade. Whilst studying on the Level 3 Business Administration course, she has shown incredible dedication to the duties of her commercial role, which include assessing customer enquiries, contacting customers for information, processing enquiries onto the CRM system for sales and technical, sales admin, and general customer service.
Niamh was put forward for the award by Commercial Manager for UK Masonry, Alex Halpin, who said:
"From the moment she arrived at Ancon, Niamh became a part of the team, impressing everyone with her dedication and attitude to learning. What she lacks in experience, she makes up for in commitment and work ethic."
During her apprenticeship, Niamh was given the task of undertaking a Departmental Improvement project, which involved examining the end-to-end process of her department, from receipt of customer enquiries, through to handover to the next team. As a result of her project, the whole process was comprehensively upgraded, resulting in improved customer service, reduction of non-value added work and a universally more efficient system.
Alex added:
"On more than one occasion, the Management Team have had to remind themselves that Niamh is an apprentice, as she performs so proficiently and achieves so much."
Upon hearing she'd been shortlisted for 'Apprentice of the Year', Niamh said:
"I wanted to apply for the apprenticeship because I want to learn something new, but didn't want to go to university. I liked the idea of gaining another qualification whilst also getting real life "9 to 5" experience.
When the apprenticeship was advertised, I thought the skills I had fit the role well, plus I liked the idea of future development. With a company the size of Ancon, I am interested in seeing how far I can progress.
On hearing the news that I was shortlisted, I was so proud. I put a lot of effort into making the most of my apprenticeship and completing my qualification to the best of my ability, so to be nominated for an award for it felt so rewarding!"
Commercial Operations Director for Masonry products, Lisa Sherburne-Kilby, said about the news:
"We are all very proud of Niamh for being shortlisted for the Apprentice of the Year award. Niamh has been a great asset to the business in the short time she has been with us, approaching her work with thought, effort and enthusiasm and quickly becoming an essential part of the team. We wish her all the best in her nomination and future career."
Now that she has completed her qualification with flying colours, Niamh hopes to continue her budding career with Ancon, with the aim of becoming an external sales representative in the future. More recently, Niamh has progressed into the role of Sales Co-ordinator in Ancon's Commercial function.
Ancon are also extremely honoured to have been shortlisted for the 'Manufacturing Apprenticeship / Training Programme Award' at the Made in Sheffield awards, which will take place on Wednesday 2nd September 2020 at Cutlers Hall, Sheffield.
As a future-oriented, innovative company Leviat focuses on the ever-changing requirements of the industry, and our latest development combines the portfolio of Ancon and Halfen Tension Systems to ensure we meet the individual requirements of our customers.
Materials, products and services define how our world is built and is why Leviat is gearing up to sponsor and showcase an incredible line-up of innovative solutions from its world leading range of connecting, fixing and anchoring products at Futurebuild 2023.