Ancon's new App makes choosing wall ties simple
Update: Ancon's Cavity Wall Tie Product Selector App has been updated to include Teplo-BF low thermal conductivity wall ties.
Structural fixings specialist, Ancon, has launched a new Cavity Wall Tie Product Selector App in response to the growing use of smartphones and tablets in the construction industry.
The new App, which is available for both iPhone and Android handsets, makes choosing the most appropriate wall tie for any cavity wall construction quick and easy, whether at home, on-site or in the office.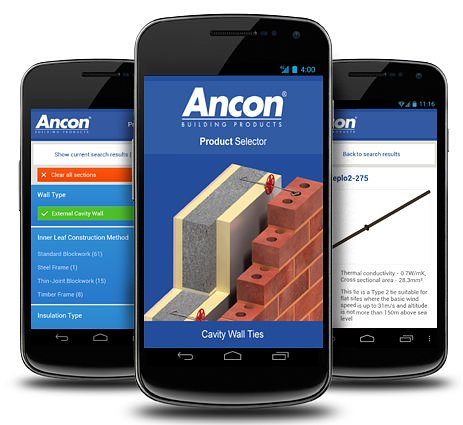 App users simply answer a series of simple multiple-choice questions on cavity width, inner leaf construction and building type and height to arrive at their required solution. With each stage of the selection process, the choice of wall ties is automatically reduced and users have the option of either reviewing the available solutions or further refining their search. At the end of the process, users are presented not only with the ideal tie, or choice of ties, for their application, but with all of the information needed to draft the final specification, including u-value calculation data, any geographical restrictions including a wind speed map, recommended insulation clip details and installation density.
Users don't need to worry about product-specific technical details, such as embedment depth, which can result in additional complications when using traditional selection methods, as the App automatically calculates these and makes the necessary allowances when calculating tie length.
Suitable for all types of standard masonry and thin-joint blockwork, steel frame and timber frame constructions, the App features Ancon's full range of market leading wall ties. Products featured include Staifix stainless steel wire ties and the company's unique ultra-low conductivity TeploTie, manufactured from basalt fibres.
Ancon's Laura Aston-Bowes said
"Finding new and improved ways of delivering information which makes it easier to choose the correct Ancon products is a priority for us. As winner of a Queens Award for Enterprise in Innovation, our dedication to product development is now widely recognised, but we are also keen to take maximum advantage of the latest technological innovations, such as Smartphone technology, to give the Industry 24/7 support, wherever they need it. The cavity wall tie product selector App is just one way in which we are doing this."
The new App is free to download from the App Store for all iPhone and iPad users, or from the Google Play Store for Android handsets and tablets.
Desktop users can access a web-based version of the product selector here.
As a future-oriented, innovative company Leviat focuses on the ever-changing requirements of the industry, and our latest development combines the portfolio of Ancon and Halfen Tension Systems to ensure we meet the individual requirements of our customers.
Materials, products and services define how our world is built and is why Leviat is gearing up to sponsor and showcase an incredible line-up of innovative solutions from its world leading range of connecting, fixing and anchoring products at Futurebuild 2023.