Composite Floor Fixings
The Ancon ACC is a dowel-type fastener providing a shear resistant connection between timber and a concrete layer.
ACC Composite Connector Range
The Ancon ACC is a blue, galvanised steel, self-tapping screw specially designed for use in the construction of loadbearing timber-concrete composite floors.
The screw is available in two standard lengths. The 205mm length is suitable for use with conventional ceiling timbers and modern slab kits, with a maximum timber floorboard thickness of 50mm (2") between the timber joist and concrete. The 165mm length is ideal for renovations involving traditional 'dippelbaumdecken', common in and around Vienna.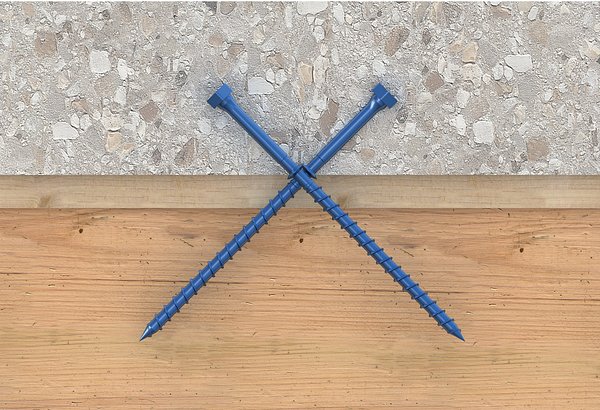 The sharp point and course thread makes the ACC quick and easy to install. No pre-drilling of timber is required.
The shank features an integral ring designed as a depth limiter to prevent over-embedment in the timber. It also acts as a compression bearing in crosswise applications.

Product Reference

Floorboard Depth (mm)

Overall Length (L) (mm)
Thread Length (TL) (mm)
Ø (A)
(mm)
Ø (B)
(mm)
Pack Size
ACC8.0 x 165
0-30mm
165
100
8
10
300
ACC8.0 x 205
30-50mm
205
130
8
10
300

Trust our CE Marking
There are a number of controls in place to safeguard the reliability and accuracy of the Ancon ACC CE Declaration of Performance.
The CE mark on Ancon Composite Connectors confirms:
Initial third party product testing and analysis
Third party inspection of manufacturing plant and production controls
Third party continuous surveillance of manufacturing controls
Routine testing of products in accordance with third party approved prescribed test plan
Batch controls with full material traceability
Technical Advice and Calculation Services
Contact Leviat to discuss the suitability of a timber-concrete composite floor on your next project.
Calculation software is available to aid structural engineers with a system design. The software also generates an installation layout for the on site installer.
Our staff are available to advise on the correct specification and installation of ACC composite connectors.
A design sheet is available on request to capture all necessary calculation inputs to enable a project-specific design to be generated.
As a future-oriented, innovative company Leviat focuses on the ever-changing requirements of the industry, and our latest development combines the portfolio of Ancon and Halfen Tension Systems to ensure we meet the individual requirements of our customers.
Materials, products and services define how our world is built and is why Leviat is gearing up to sponsor and showcase an incredible line-up of innovative solutions from its world leading range of connecting, fixing and anchoring products at Futurebuild 2023.