Ancon Launches the First 250mm Type 4/Type A Wall Tie
The Staifix range of stainless steel cavity wall ties from Ancon continues to grow. This unrivalled product portfolio now includes the first 250mm long, Type 4/Type A, light duty wall tie.
The new Staifix HRT4 250mm has been independently tested to the performance requirements of a Type 4 tie to PD6697 and a Type A tie to Approved Document E (Resistance to the passage of sound). As a Type 4 tie, the HRT4 250mm is suitable for use in external walls of houses no more than 10 metres high and with a cavity in the range 101mm to 125mm; as a Type A tie, it is suitable for use in internal separating walls of new-build attached dwellings with a 125mm cavity.
Andrew Lilley, Ancon's Distributor Sales Manager, explains the significance of this product launch.
The demand for more energy efficient buildings is having an effect on masonry cavity wall construction. Insulation thickness, and consequently overall cavity width, is increasing. Longer wall ties are now required. Whilst various 250mm long ties exist in the Ancon range, the new HRT4 is the most cost-effective solution for use in new-build housing. It is the longest Type 4 and Type A wall tie in the market today. In these challenging times, stockists and end users of our products can trust Ancon to continue to develop high quality, value-engineered products which meet market requirements.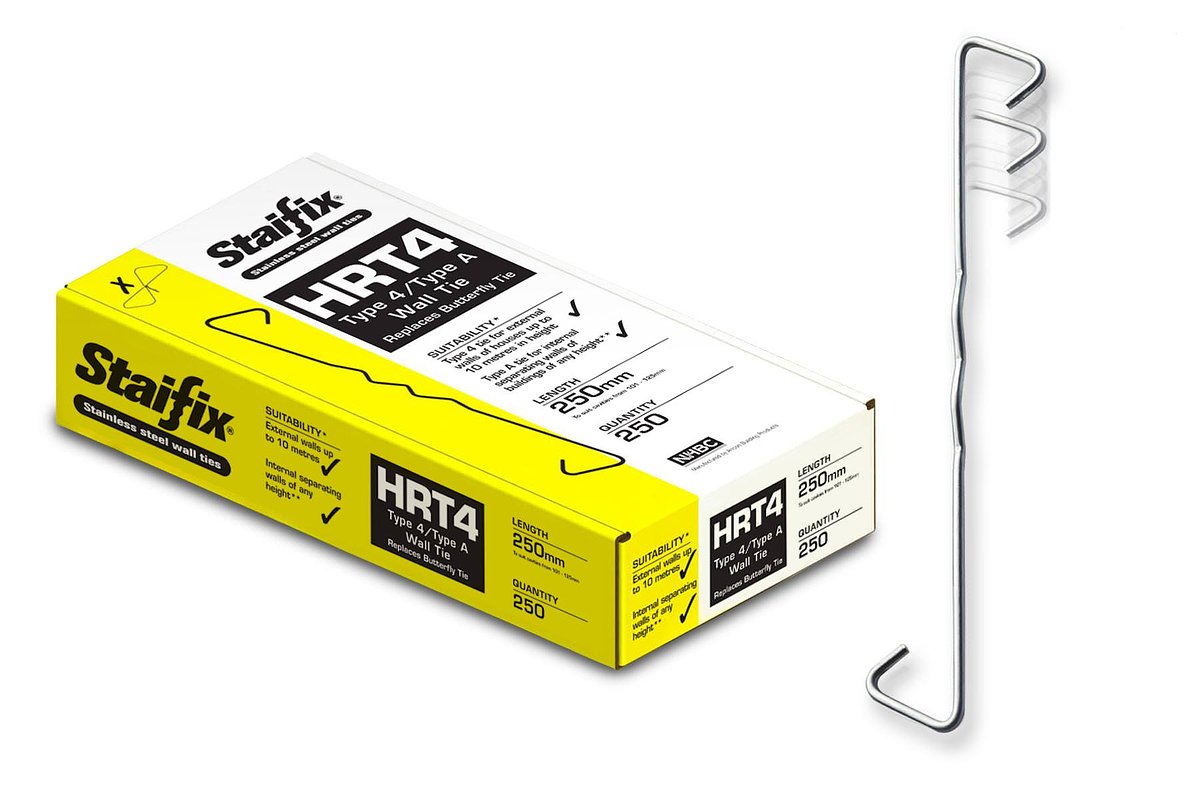 Wall ties are essential to the stability of masonry, but by crossing the cavity they act as a thermal bridge and therefore have an effect on the insulating properties of the wall. Generally speaking, the smaller the cross-sectional area of the wall ties, the smaller the effect on the u-value of the wall.
In order to calculate an accurate U-value for a wall, the actual cross-sectional area of the wall tie should be used. The default values for stainless steel ties, found in many calculation programs, over-estimate the cross-sectional areas involved. If default values are used in a u-value calculation, instead of the actual cross-sectional area of the wall tie, the rate at which heat is lost through the wall will also be over-estimated.
On the thermal conductivity of Ancon wall ties, Graham Law said,
U-values under 0.20W/m2k can be achieved with masonry cavity walls and standard Ancon stainless steel ties.

Ancon wall ties are value-engineered. They deliver the required performance from the minimum material content. When compared with traditional butterfly ties, double triangle ties or vertical twist ties, Ancon wall ties have a smaller cross-sectional area, and therefore a lower thermal conductivity.
Like all Staifix cavity wall ties, the HRT4 250mm meets the technical requirements of the National House-Building Council, is manufactured from high tensile corrosion-resistant stainless steel wire and features rounded safety ends to reduce the risk of injury during handling and installation.
Staifix HRT4 wall ties are also available in 200mm, 225mm and 275mm lengths, and are supplied in boxes of 250.
Updated May 2011.
Building Information Modelling
For BIM Objects of these products, please click here or visit http://www.nationalbimlibrary.com/ancon
As a future-oriented, innovative company Leviat focuses on the ever-changing requirements of the industry, and our latest development combines the portfolio of Ancon and Halfen Tension Systems to ensure we meet the individual requirements of our customers.
Materials, products and services define how our world is built and is why Leviat is gearing up to sponsor and showcase an incredible line-up of innovative solutions from its world leading range of connecting, fixing and anchoring products at Futurebuild 2023.