Leviat enhance Nexus® range with launch of Nexus XI®
Leading masonry support brand, Ancon, and the UK's largest brickwork special shape and masonry fabrication company, Ibstock Kevington, have launched Nexus XI® – a new, mechanically fixed brick-faced support system and lintel range - to further enhance the already popular Nexus® offering.
Nexus XI® is both BBA accredited and NHBC approved. Its 'A' Fire Rating means it can be specified and installed with confidence on high-rise residential buildings over 18m, in compliance with the recent amendment to Approved Document B of the Building Regulations – a critical consideration in the wake of stringent fire safety legislation.
The launch of Nexus XI® builds on an existing, successful association between Ibstock Kevington and Ancon, which saw the launch of the first generation Nexus® brick-faced support system 5 years ago. The Nexus® range makes the creation of flawless, brick-faced soffits easier than ever before. Combining specially developed Ibstock Kevington lightweight brick-faced steel units with the tried and tested Ancon MDC stainless steel bracket angle support system, Nexus® provides an easy-to-install, aesthetically pleasing alternative to traditional cast concrete solutions.
Among the key benefits of the system is its lightweight design which, when compared to traditional precast concrete alternatives, sees weight cut by more than half – making it easy to handle and ensuring it can be installed quickly and without the use of specialist lifting equipment.
Indeed, ease-of-installation was front of mind during the Nexus XI® design process, with the system utilising the same installation process as Nexus® Original. This means specifiers can enjoy the additional benefits of a mechanical fix system without the need for installers to adopt a new installation method.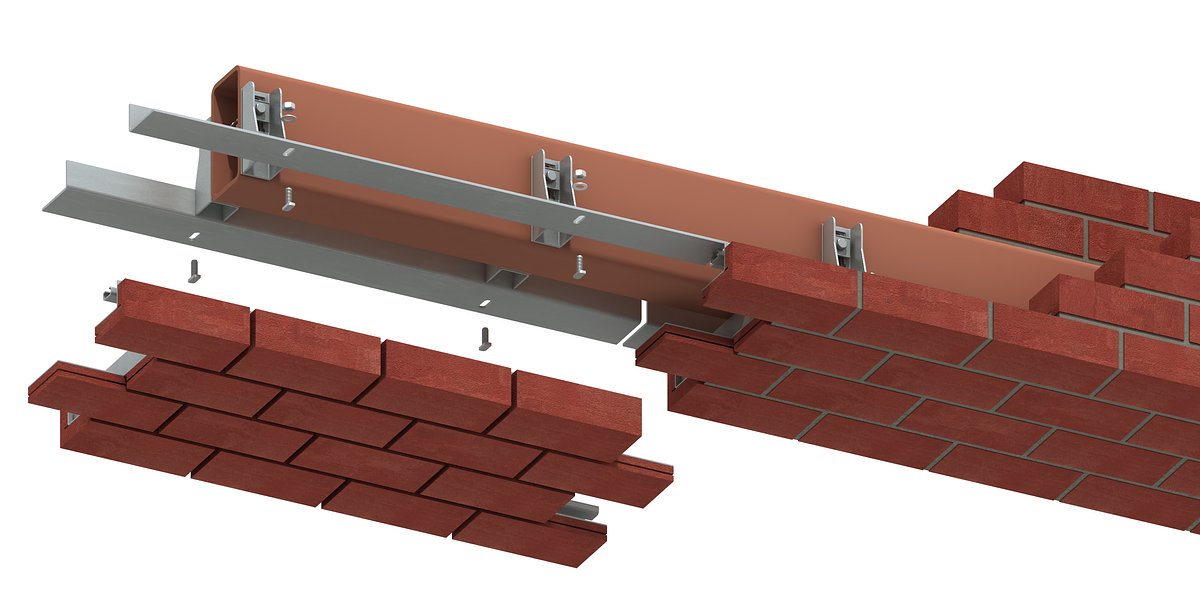 Iain Durrant, Managing Director at Ibstock Kevington, said:
"We're delighted to introduce our new, BBA approved Nexus XI® innovation. It is the result of a lot of hard work from the team over the past few months. We recognised that accreditation by the BBA was an absolutely crucial aspect of the product's development journey, with the stringent, real-world testing methodology giving us vital insight and confidence into the system's performance and behaviour in fire and to give our customers assurance when specifying products for buildings above 18m".
"Nexus XI® is a fantastic addition to the Nexus® family. The range provides vital peace of mind in terms of safety, with its flexibility and ease-of-use making it the ideal system for installers, while the overall aesthetic appeal ensures it can be used in a wide variety of developments."
Lisa Kilby, Director of Commercial Operations for Ancon Products at Leviat, added:
"The launch of Nexus XI® represents a game changing offering for the mechanically fixed brick-faced support system market. By partnering with Ibstock Kevington, our businesses - two of the UK's leading construction specialists - have been able to pool our collective expertise to develop a solution to meet current and future industry needs."
Download the latest technical literature here:
As a future-oriented, innovative company Leviat focuses on the ever-changing requirements of the industry, and our latest development combines the portfolio of Ancon and Halfen Tension Systems to ensure we meet the individual requirements of our customers.
Materials, products and services define how our world is built and is why Leviat is gearing up to sponsor and showcase an incredible line-up of innovative solutions from its world leading range of connecting, fixing and anchoring products at Futurebuild 2023.