Installation of MBT Couplers
DE1 Electric Nutrunner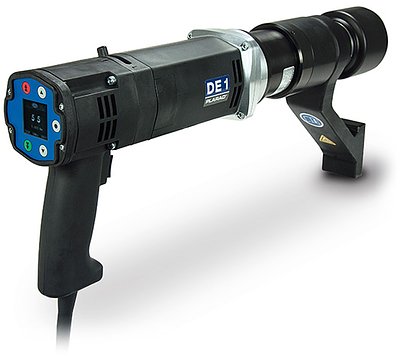 Description
The DE1 Electric Nutrunner comes with a new control system which includes voltage monitoring and speed sensing. This allows the user to complete their bolting with even greater precision and reliability. This is because by reliably offsetting any voltage fluctuations and changes in temperature, this new tool delivers superior torque accuracy. The DE1 switches automatically to the main available frequency (e.g. 50 Hz or 60Hz).
The digital multifunction display (O-LED) is disabled. The tool is pre-set to maximum torque to meet our requirements.
Features
Designed to sustain a constant load, the gearbox is now slimmer, shorter and lighter.
New control system monitors and controls electrical current – therefore RPM remains constant.
The DE1 is extremely accurate as the control system compensates for current and temperature changes.
Automatic sensing and switching to the appropriate electrical frequency (50-60Hz).
When overheating the nutrunner automatically shuts down – temperature control.
Please contact Leviat for further information.
As a future-oriented, innovative company Leviat focuses on the ever-changing requirements of the industry, and our latest development combines the portfolio of Ancon and Halfen Tension Systems to ensure we meet the individual requirements of our customers.
Materials, products and services define how our world is built and is why Leviat is gearing up to sponsor and showcase an incredible line-up of innovative solutions from its world leading range of connecting, fixing and anchoring products at Futurebuild 2023.