Ancon's £500 Cash Prize Winner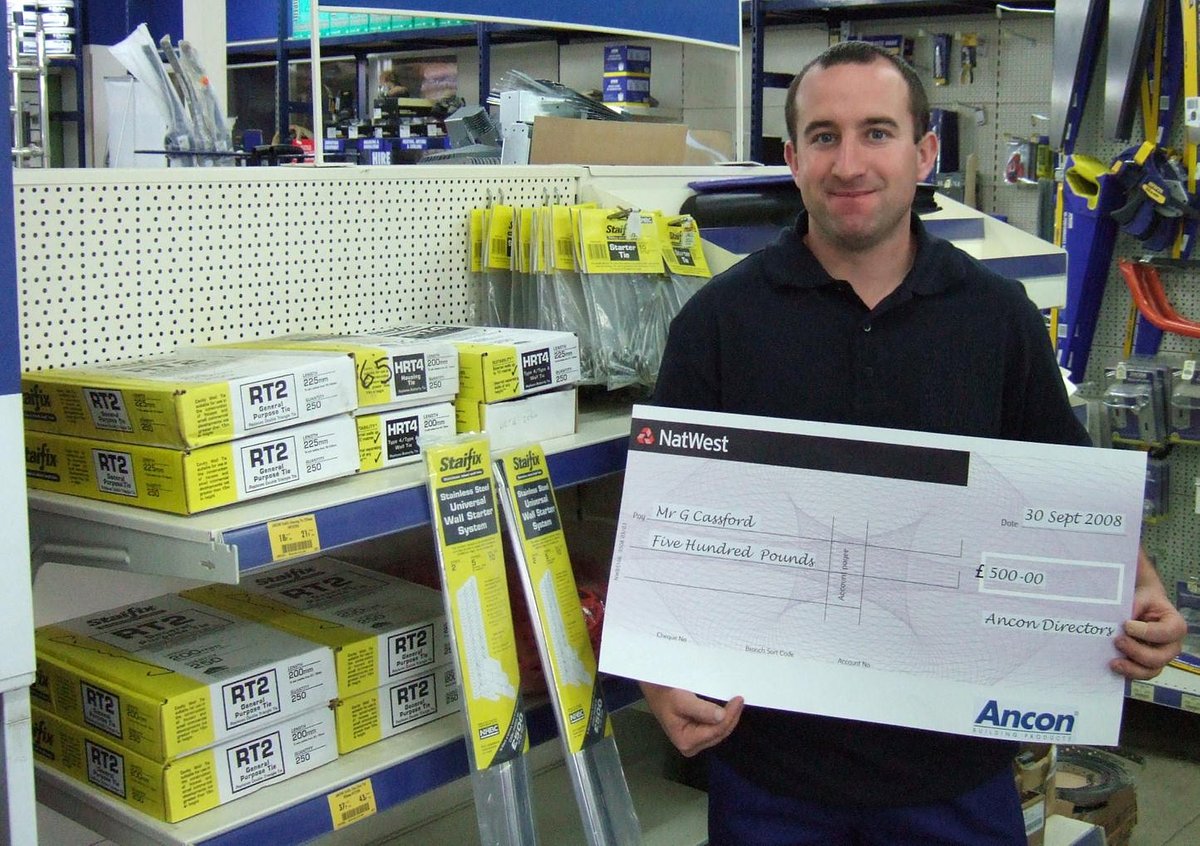 Congratulations to Glenn Cassford of Darlington on finding a winning ticket, worth £500, in a Staifix Universal Wall Starter pack.
Just five days after calling the Ancon claim line, Glenn was back at the builders' merchant where he purchases his Staifix products, to be presented with his prize.
The presentation was made by Duncan Recknell, Ancon's North East Area Manager.
Duncan said, "This news has created a real buzz in this store. Staff and customers alike have been discussing Glenn's winning ticket and all the details of Ancon's free prize draw."
Glenn said, "I only wanted to double-check the size of drill bit I needed."
"I regularly use Staifix wall starters but rarely look inside the packaging when I'm on site. I opened the ticket thinking it was fixing instructions. I couldn't believe it was a winning ticket and I had just won £500. I called Ancon immediately".
"I'll share my winnings with the lads. It's an unexpected bonus for the three of us"
"And I'll be sure to check the ticket in every Staifix pack I buy in the future!".
Every Staifix Universal Wall Starter from Ancon contains a chance of winning £500. A number of winning tickets remain unclaimed and could be located in builders' merchants anywhere in the UK.
This is such a popular promotion with stockists that Ancon has agreed to extend the cash giveaway until 2010 at least.
For more information please contact Ancon's Distributor Sales Team on 0114 238 1 238.
As a future-oriented, innovative company Leviat focuses on the ever-changing requirements of the industry, and our latest development combines the portfolio of Ancon and Halfen Tension Systems to ensure we meet the individual requirements of our customers.
Materials, products and services define how our world is built and is why Leviat is gearing up to sponsor and showcase an incredible line-up of innovative solutions from its world leading range of connecting, fixing and anchoring products at Futurebuild 2023.