Carillion and Reussir applaud Ancon's AMR-X Masonry Reinforcement
Having conducted successful site trials, representatives from Carillion and Reussir are full of praise for AMR-X, the innovative masonry reinforcement from Ancon.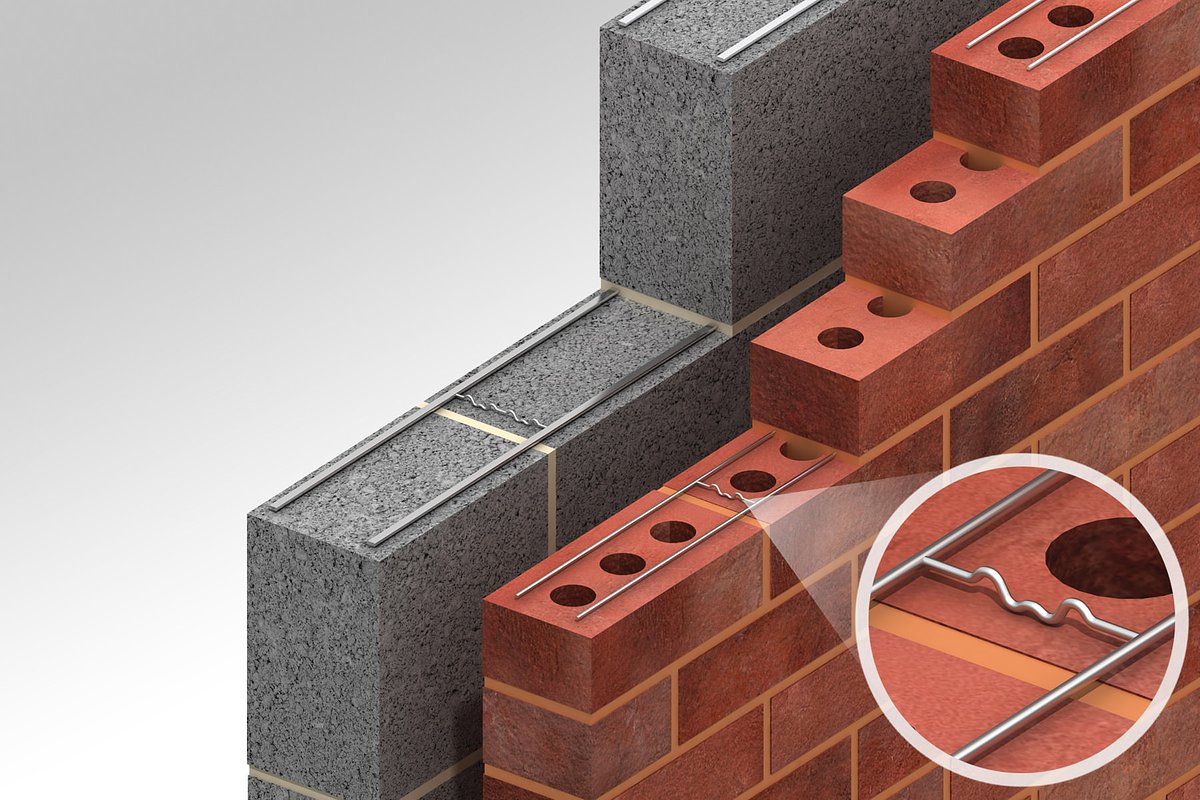 Ancon AMR-X offers the user something eXtra. Unlike standard ladder-type reinforcement, AMR-X features shaped cross wires which elevate the outer longitudinal wires to ensure they are located in the desired location at the centre of a bed joint.
AMR-X was developed by Ancon because a number of construction managers had expressed concerns that reinforcement could easily be installed incorrectly on-site, by being placed on dry masonry with mortar applied above. In such cases, standard reinforcement would be located at the bottom of the bed joint with insufficient mortar cover.
Site trials by two leading contractors have proven that the innovative AMR-X is a simple, cost-effective way to ensure reinforcement is fully surrounded by mortar.
Although good site practice is to bed masonry reinforcement in a layer of fresh mortar, Paul Walmsley, a Masonry Advisor at Carillion, was delighted to find "whether laid post or pre mortar, AMR-X ensures adequate mortar coverage is attained which provides a significant aid to ensuring structural compliance on sites".
Mindful of the time taken to supervise installation of bed joint reinforcement, Alan Phillips, Carillion's Technical Services Manager says "using Ancon AMR–X will ensure bed joint reinforcement is accurately installed without compromising on build time".
Alex Cross, a Project Manager for Reussir Ltd (Brickwork Contractors) with over thirty years experience, recalls the details of his site trials and the conclusions reached:
We built walls using the product in two ways. In the first trial, we applied best practice and pushed AMR-X into a bed of mortar. On the second occasion we placed AMR-X on dry masonry with mortar applied above, as this is the most common site shortcut which concerns us.

When we took the masonry back down to see the results we found the outer tram wires were located near the centre of a bed joint in both cases. There was truthfully no difference in the final wire position.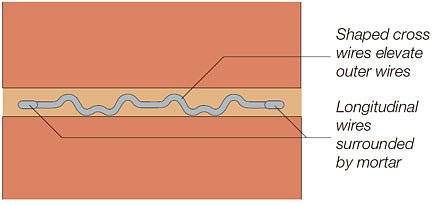 I am very impressed with the AMR-X brick reinforcement. Ancon has made what appears to be a simple change to the product structure that really delivers results on site.

In conclusion, I have recommended that we use this product as it can eliminate the risk of inadequate mortar bond around bed joint reinforcement. The trials showed that when the downward pressure of laying the block is applied, the special AMR-X cross wires allow mortar to be displaced around the outer wires.
Steel reinforcement is located in bed joints to improve the structural performance of a masonry wall. It is important that the outer steel wires are surrounded by mortar to ensure the designed performance is achieved on site - this guidance is confirmed in PD6697: 2010: Recommendations for the design of masonry structures to Eurocode 6.
The unique design of AMR-X can improve build quality, reduce the requirement for site supervision and accelerate the speed of construction. It is manufactured from stainless steel wire which is suitable for internal and external walls, and is available in widths to suit brickwork and blockwork. The cross wires have been designed so the product can be installed either way up.
Ancon launches a number of new and improved products every year. In April 2012, Ancon was honoured with the Queen's Award for Enterprise in Innovation; an award regarded by many as the ultimate business accolade as it acknowledges the highest standards in innovation, commercial success and corporate responsibility.
As a future-oriented, innovative company Leviat focuses on the ever-changing requirements of the industry, and our latest development combines the portfolio of Ancon and Halfen Tension Systems to ensure we meet the individual requirements of our customers.
Materials, products and services define how our world is built and is why Leviat is gearing up to sponsor and showcase an incredible line-up of innovative solutions from its world leading range of connecting, fixing and anchoring products at Futurebuild 2023.