New Staifix Boxes: Improved Product Identification In-Store and On-Site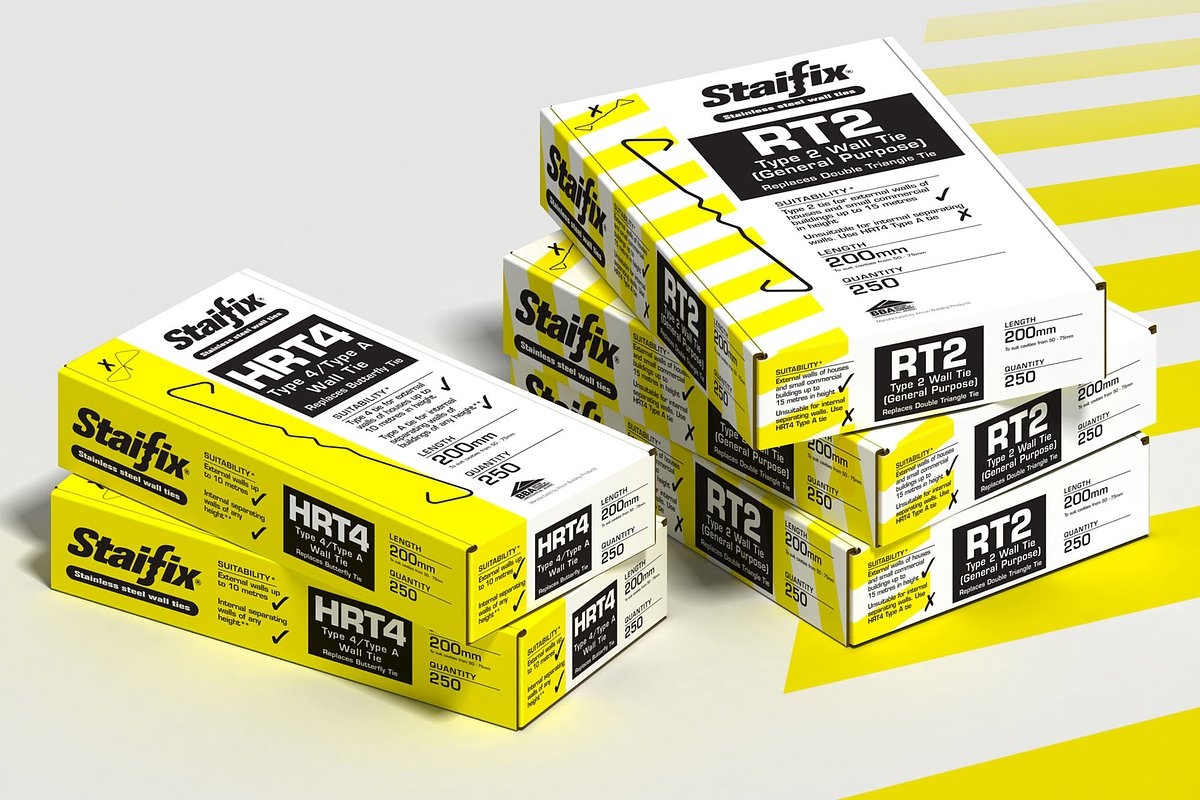 New box designs from Ancon ensure Staifix HRT4 and RT2 wall ties are easily distinguishable, both in-store and on-site.
RT2 ties are now packed in an attractive 'stripy' box, which differs from the solid yellow band on the HRT4 version.
This new packaging is proving particularly helpful to builders constructing new-build attached dwellings to Approved Document E, where both wall tie types may be required on the same site. When complying with Part E requirements, it is not uncommon for the wall ties used in the internal separating walls to be a different type to those used in the external walls.
Andrew Lilley, Ancon's Distributor Sales Divisional Manager said,
"The new boxes have retained the familiar and eye-catching Staifix branding, whilst making it even easier for our merchant partners and end users to select the right wall tie for their needs."
The Staifix HRT4 is the only wall tie on the market suitable for use with all approved 'robust details' for masonry cavity separating walls. Use of these approved wall constructions eliminates the time and expense of mandatory pre-completion sound testing to Approved Document E.
The HRT4 is also suitable for external walls of houses up to 10 metres in height.
Manufactured from stainless steel wire of a wider diameter than the HRT4, the Staifix RT2 wall tie is suitable for external walls up to 15 metres in height. Like all PD6697 Type 2 ties, the RT2 is unsuitable for use in internal separating walls of attached dwellings.
Updated May 2011.
As a future-oriented, innovative company Leviat focuses on the ever-changing requirements of the industry, and our latest development combines the portfolio of Ancon and Halfen Tension Systems to ensure we meet the individual requirements of our customers.
Materials, products and services define how our world is built and is why Leviat is gearing up to sponsor and showcase an incredible line-up of innovative solutions from its world leading range of connecting, fixing and anchoring products at Futurebuild 2023.