Ancon supports the BDA's Design Day 'Brick Works!'
Ancon's Technical Services Manager, Dennis Ansell, will be among the speakers at the Brick Development Association's inaugural Design Day 'Brick Works!', being held on 16th June 2015 at the Building Centre, London.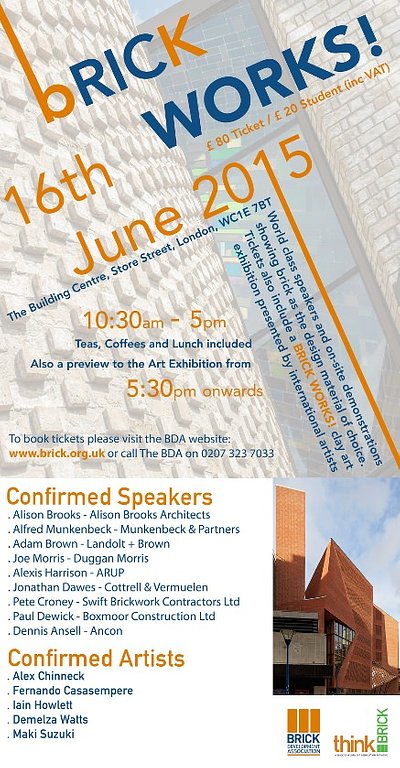 The event is a meeting of contemporary architecture, specialist contracting/ manufacturing and artistic interpretation: all focused on brick. It is a high-profile event conceived by the BDA as the champion for current and future use of brick products.
The central focus will be an exploration of the creative potential for brick in contemporary architecture. Designers as diverse as Jo Morris of Duggan Morris, Alfred Munkenbeck from Munkenback and Partners and Stirling prize winner Alison Brooks will consider their own interpretations of the material amongst a host of other architectural speakers while Ancon and leading contractors will discuss the practical challenges faced in turning the designs into reality.
Dennis will present two recent case studies from Ancon's comprehensive portfolio.
Alongside this discussion will be the opening of a multi-media exhibition, drawing together design, sculpture and photography, to celebrate brick as an artistic medium. The exhibition will feature original work from Britain's Alex Chinneck and Chile's Fernando Casasempre among a range of free-thinking designers and sculptures running from the 16th June to 10th July.
The objective of the event is to bring together contemporary design with the professionals who turn concepts into reality.
It is a must-see event, not only for specifiers looking to find out more about how brick inspires contemporary design, but also for contractors and practitioners who will be able to further investigate the technical possibilities for this most flexible building materials.
The BDA Design Day is a ticket-only event that is CPD accredited. Tickets are £80 each (students £20) and are available via the BDA website - www.brick.org.uk
As a future-oriented, innovative company Leviat focuses on the ever-changing requirements of the industry, and our latest development combines the portfolio of Ancon and Halfen Tension Systems to ensure we meet the individual requirements of our customers.
Materials, products and services define how our world is built and is why Leviat is gearing up to sponsor and showcase an incredible line-up of innovative solutions from its world leading range of connecting, fixing and anchoring products at Futurebuild 2023.