Thermal Windpost TWP2
Thermal efficiency: the new revolution in windposts
The revolutionary Ancon Thermal Windpost (TWP2) is designed to span vertically between floors, to provide additional lateral support for panels of masonry. It has been specially designed and engineered after extensive research and testing, with a variety of features to improve the thermal performance and repeatability of the junction.
With robust integral non-combustible mineral fibre insulation in combination with a thermal slot array, using the Thermal Windpost in place of a traditional windpost results in up to 70% reduction in thermal transmission through the span of the section, as well as improving the consistency and repeatability of fitting insulation in and around the post, ensuring that the intended thermal design is met.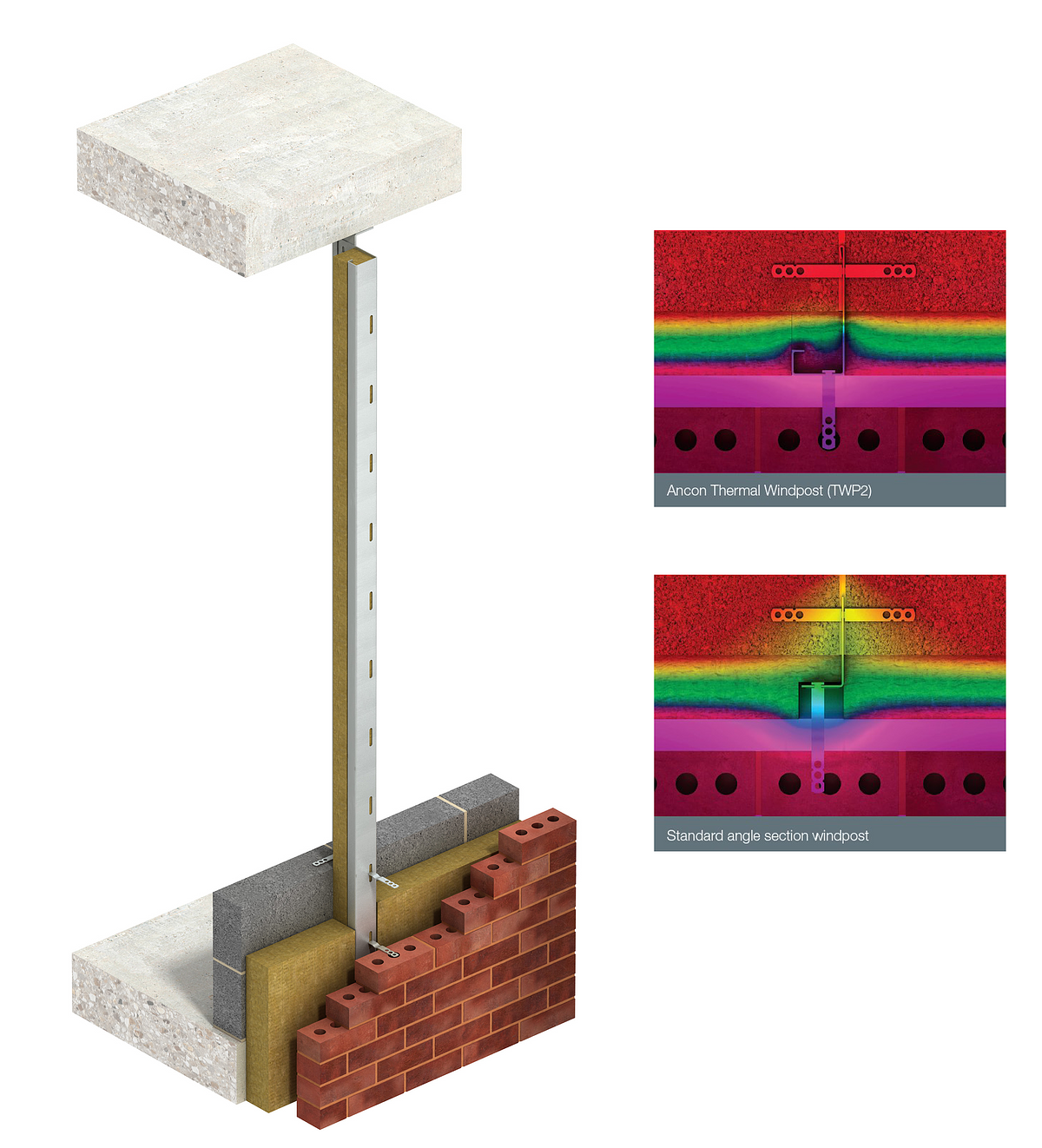 Although it holds the same strong performance, the patented Thermal Windpost is engineered to be up to 35% lighter than traditional windposts, making it much easier to handle on site. The teardrop hem increases the strength of the post and eliminates sharp edges, meaning that safety on site is also improved.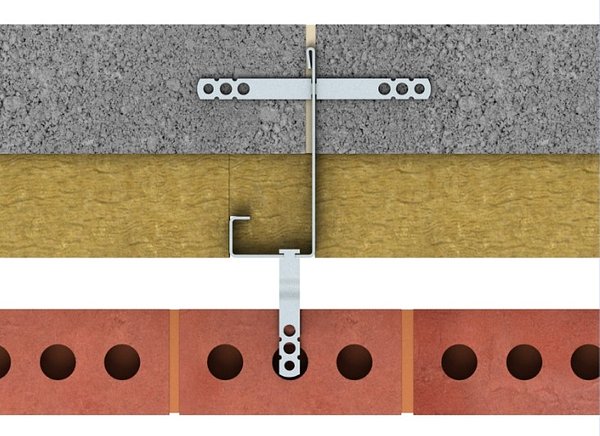 Ancon Thermal Windposts are designed to add thermally efficient lateral support to cavity walls where either wind loads are high, or the span between primary structural members is large. The hemmed leg of the windpost is built into the blockwork, and the blockwork tied through the leg of the windpost to minimise any possible movement or cracking of internal finishes. If a vertical movement joint is required in place of a tied joint, ties with a debonding sleeve on one side can be supplied.
For further information or advice on specific applications, please contact our Technical Services Team.
Connections and Ties
Connections to the frame can be made in a variety of ways and will depend on the type of structure & fixing used. Typical examples of connections are shown here.

Details for Specification and Ordering
The Ancon Thermal Windpost is UKCA and CE marked, designed to BS EN 1993 (EC3) and manufactured to BS EN 1090-1.
Ancon Windposts are designed and manufactured to suit each individual project. Sufficient time should be allowed for the design, approval and manufacturing process when placing orders for windposts.
Download and complete the windpost design sheet from this page and email to info.ancon.uk@leviat.com.
Fixing Services
Please click here for details of companies that can provide 'supply-and-fix' and 'fix-only' services for Ancon windposts.
Building Information Modelling
A BIM Object of this product is coming soon to the National BIM Library.
As a future-oriented, innovative company Leviat focuses on the ever-changing requirements of the industry, and our latest development combines the portfolio of Ancon and Halfen Tension Systems to ensure we meet the individual requirements of our customers.
Materials, products and services define how our world is built and is why Leviat is gearing up to sponsor and showcase an incredible line-up of innovative solutions from its world leading range of connecting, fixing and anchoring products at Futurebuild 2023.