Non-Welded Bracket Angle Support
AnconOptima (Patent No. EP 1211364)

AnconOptima is a bracket angle masonry support system. Systems comprise laser-cut brackets, two-step angles with pre-marked fixing zones and locking wedges to ensure the correct contact is achieved between the two.
Standard Systems
Standard systems, referenced AnconOptima 10, 12 and 14, support an unfactored masonry load of up to 10kN, 12kN and 14kN per metre respectively.
The brackets used across the three standard systems are universal and are available to suit cavities from 60mm to 150mm (stocked in 5mm increments). Brackets are simply changed on site to allow for cavity variations.
Benefits of Standard Systems
More adjustable than welded bracket systems
Specified by using simple load/cavity charts
No requirement for detailed layout drawings
Supplied from stock
Faster to install
Easier to move around site
Unused items can be used on the next project or restocked
Thermal Breaks
AnconOptima systems are suitable for use with Thermal Breaks. Ancon Thermal Breaks minimise heat loss through cold bridging, and improve the energy efficiency of your building project.
AnconOptima Systems
| System | Maximum Unfactored Load (kN/m) | Angle Length (mm) | Nominal Length (including 10mm gap between angles) (mm) |
| --- | --- | --- | --- |
| AnconOptima 10 | 10 | 990 | 1000 |
| AnconOptima 12 | 12 | 990 | 1000 |
| AnconOptima 14 | 14 | 790 | 800 |
| System | Fixing Colour Zone | Bracket Position (mm) |
| --- | --- | --- |
| AnconOptima 10 | Red | 500 centres |
| AnconOptima 12 | Green | 500 centres |
| AnconOptima 14 | Blue | 400 centres |
Non-Standard Systems
AnconOptima can be designed to suit other applications. Typical applications are unfactored loads up to 20kN/m or where a different angle position on the bracket is needed e.g. projecting angle. Contact us for more information.
Adjustment
AnconOptima angles have a 100mm pre-marked fixing zone which provides 50mm horizontal adjustment. If fixing into concrete with expansion bolts, the bracket can be moved to eliminate clashes between the bolts and reinforcing bars. Horizontal adjustment can be increased by fixing the system to an Ancon channel cast into the face of the concrete. If fixing to steelwork, the brackets can be moved to align with the location of a hole, negating the need for a more expensive horizontal slot to be provided.
Vertical adjustment is achieved by the deep slot in the back of the bracket.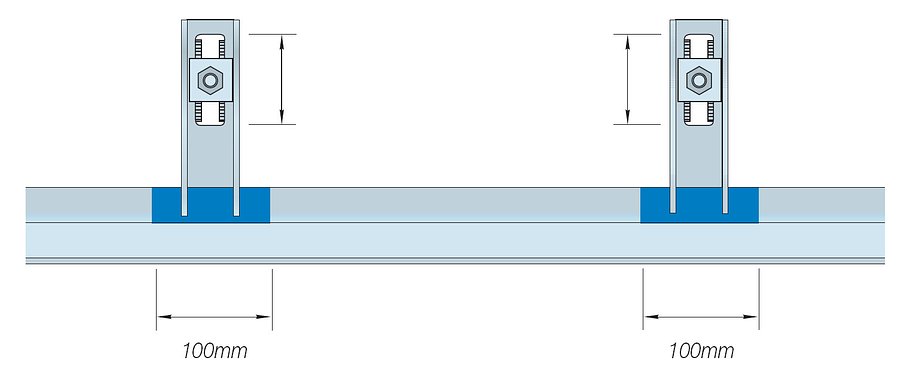 Specification Clause for Standard System
Delete items shown in italic as applicable.
AnconOptima 10/12/14 standard masonry support system comprising a 'W' profile stainless steel angle complete with slide on, interchangeable fixing brackets to suit varying cavity width.
Fix back to concrete/steelwork using expansion bolts/cast-in channel/stainless steel set screws/SteelgripTM.
System to be installed in accordance with Leviat's instructions.
Manufactured in Grade 1.4301 (304) Austenitic Stainless Steel.
Building Information Modelling
For a BIM Object of this product, please click here or visit the National BIM Library.
As a future-oriented, innovative company Leviat focuses on the ever-changing requirements of the industry, and our latest development combines the portfolio of Ancon and Halfen Tension Systems to ensure we meet the individual requirements of our customers.
Materials, products and services define how our world is built and is why Leviat is gearing up to sponsor and showcase an incredible line-up of innovative solutions from its world leading range of connecting, fixing and anchoring products at Futurebuild 2023.