Frame Cramps
Ancon SDB/SDV/SPB/SPV Frame Cramp
Frame cramps can be fixed to concrete, steelwork or masonry and have a single 7mm diameter hole (SDB) or an 8mm x 30mm vertical slot (SDV).
Ancon M6 single expansion bolts are recommended for fixing to concrete and M6 set screws or SDTSS-38-5PT self-drilling screws for fixing to steelwork. Frame cramps can be fixed to masonry with suitable plugs and screws or resin anchors.
SDB and SDV meet the requirements of Part E (Resistance to the passage of sound) for use in external cavity walls.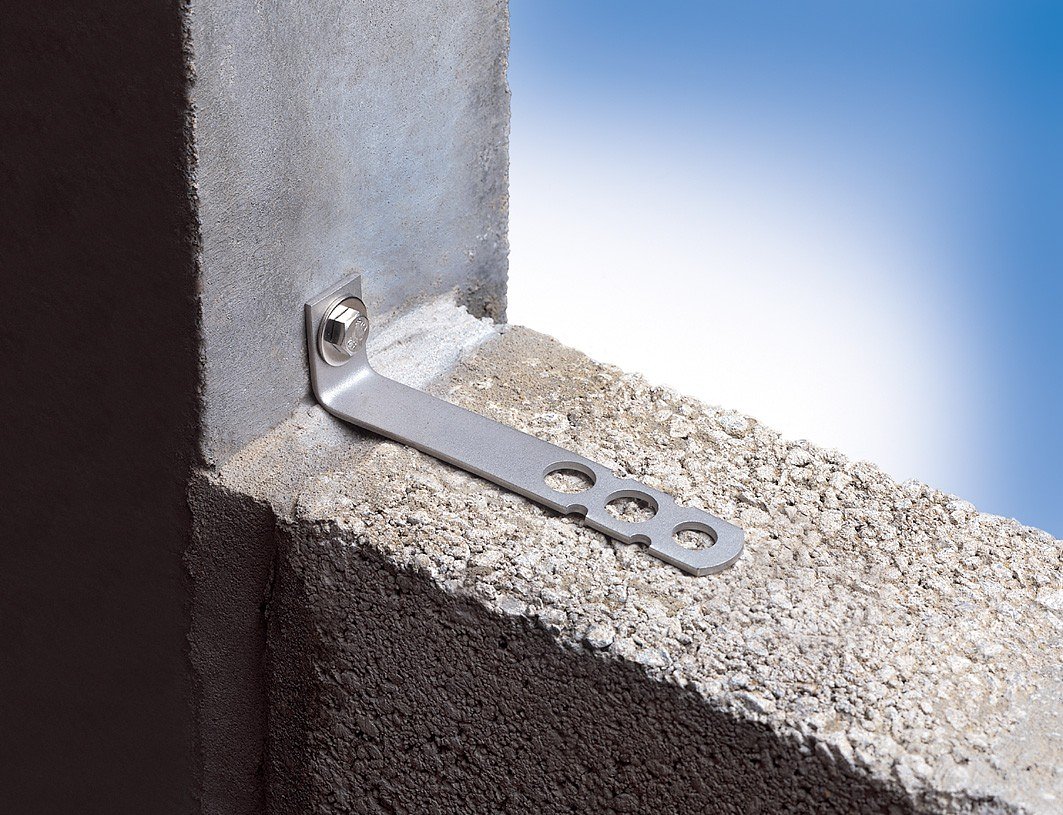 Building Information Modelling
For BIM Objects of these products, please click here or visit the National BIM Library.
Ancon SPA Frame Cramp
Where masonry is in line with a column flange, a notched wall tie is used in conjunction with a bespoke angle section to allow the mechanical fixing to be suitably located. This system is referenced SPA. The angle section features a 7mm fixing hole as standard and a slot to accept the wall tie. The slot provides vertical tolerance in the position of the tie allowing the angles to be fixed in advance of the masonry if required. Ties can be used with debonding sleeves when used at vertical movement joints. The thickness, size and shape of the angle are designed to suit each application. Contact our Technical Department or download the design sheet.



Ancon Teplo-L-Tie
The Teplo-L-Tie is ideal where a low thermal conductivity restraint fixing is required between a masonry outer leaf and an in-situ structure. It offers all the same benefits as the original Teplo basalt fibre cavity wall tie with an additional stainless steel upstand which is mechanically and chemically bonded to one end of the tie to allow for a secondary fixing.
The 7mm diameter hole in the upstand suits a variety of fixings, typically an M6 single expansion bolt for concrete, a plug and screw for either masonry or concrete, and either an M6 set screw or SDTSS-38-5PT self-drilling screw for steelwork. For fixing to timber, click here.
Teplo-L-Ties are available for cavities from 100mm to 300mm.
An o-ring drip prevents water crossing the cavity and the tie can be used with the black Teplo-Clip where insulation is to be retained.
Chi values are available from Ancon to aid with U-value calculations.
Ancon HiT (Hammer-in Tie)
The Ancon HiT fixes masonry to dense blocks (≥7N/mm²), non-perforated brick or hard stone. Use of the HiT can reduce the variety of tie lengths required on site and speed the rate of construction.
The Ancon HiT is available in a standard length of 310mm that is bent on site with a special installation tool to suit all cavities up to 150mm. Unlike conventional frame cramps it does not require a mechanical fixing, but is hammered into a plug.
A neoprene 'O' ring must be installed on the tie to prevent moisture crossing the cavity. Using the same tool and ensuring adequate embedment is achieved in the outer leaf, the tie is bent parallel (85-90°) to the brickwork.
The Ancon HiT meets the requirements of PD 6697 as a Type 2 tie.
Lengths
310mm for any cavity width up to 150mm
Pre-Fixing Aids
The practice of pre-fixing frame cramps in advance of masonry can accelerate the speed of construction and provides an opportunity to check that wall restraints have been located correctly and are securely fixed.
Ancon Gauge Tape (Pre-fix Patent 2 256 223)
Gauge Tape illustrates the standard 225mm brick/block gauge and the fixing position of frame cramps. It is applied directly to the structural frame (steel, concrete, timber or masonry) to facilitate the pre-fixing of frame cramps and to maintain accurate masonry coursing.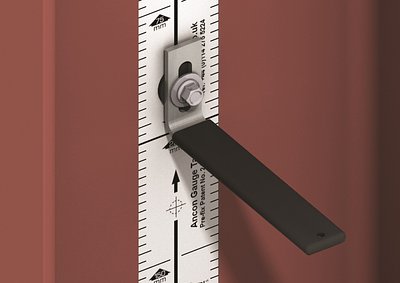 Ancon ISO-TW Washer
The ISO-TW washer enables Ancon slot-ended frame cramps to be vertically adjusted within the 30mm range of the slot to suit the exact location of mortar joints without affecting the integrity of the fixing. In addition, this washer prevents bi-metallic corrosion by separating the frame cramp from the structural frame and fixing screw.
Ancon Frame Cramps for use with Cellular Clay Blockwork
We have developed an innovative range of frame cramps for use with cellular clay blockwork. These include the Ancon CCB-L200 an abutment tie for connecting perimeter walls to dividing walls and the Ancon CCB-SMJ-200 a movement tie for fixing back to steelwork and existing masonry. They are manufactured from corrosion-resistant stainless steel and are suitable for use in housing and commercial applications.
Fixing Services
Please click here for details of companies that can provide 'supply-and-fix' and 'fix-only' services for Ancon frame cramps.
As a future-oriented, innovative company Leviat focuses on the ever-changing requirements of the industry, and our latest development combines the portfolio of Ancon and Halfen Tension Systems to ensure we meet the individual requirements of our customers.
Materials, products and services define how our world is built and is why Leviat is gearing up to sponsor and showcase an incredible line-up of innovative solutions from its world leading range of connecting, fixing and anchoring products at Futurebuild 2023.