Ties for Cavities over 150mm
BIM Object Library
For BIM Objects of these products, please click here or visit the National BIM Library.
Ancon ST1 Type 1 Tie to PD 6697 (Masonry Heavy Duty)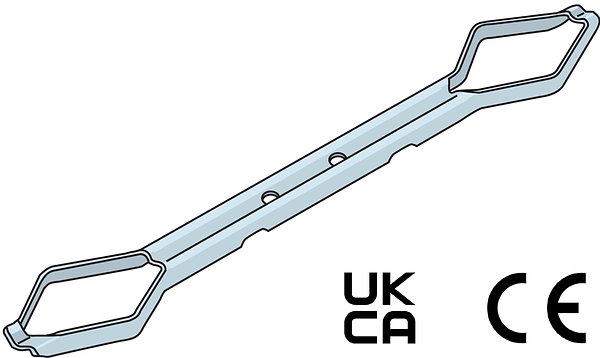 The Ancon ST1 is a Type 1 tie which can be used in all types of building of any height, anywhere in the British Isles. The section that spans the cavity has a series of holes to provide water drips. This allows the same tie to be used in insulated cavities as well as open cavities. Type 1 performance is declared in M2 mortar.
| ST1 Length | Cavity Width |
| --- | --- |
| 300mm | 151-175mm |
| 325mm* | 176-200mm |
| 350mm* | 201-225mm |
*Type 1 performance declared in M2 mortar only
Teplo-BF Wall Tie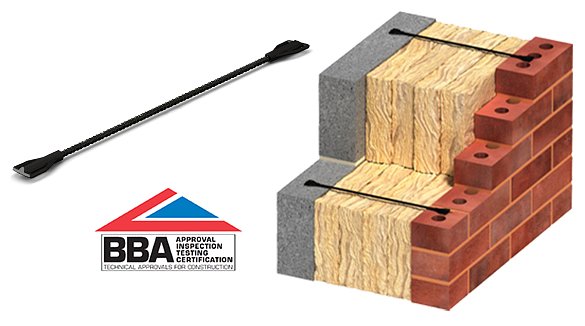 The Ancon Teplo-BF is a composite wall tie manufactured from pultruded basalt fibres. This material is often selected for its low thermal conductivity value of 0.7W/mK, which can be used to reduce insulation thickness. Teplo-BF is BBA approved for cavities from 50mm to 450mm.
Insulation retaining clips are available for partial-fill cavities.
For cavities over 150mm the tie lengths are as follows:
| Teplo-BF Length | Cavity Width |
| --- | --- |
| 300mm | 151-175mm |
| 325mm | 176-200mm |
| 350mm | 201-225mm |
| 375mm | 226-250mm |
| 400mm | 251-275mm |
| 425mm | 276-300mm |
| 450mm | 301-325mm |
| 475mm | 326-350mm |
| 500mm | 351-375mm |
| 525mm | 376-400mm |
| 550mm | 401-425mm |
| 575mm | 426-450mm |
Teplo-BF is a Type 2 wall tie up to a tie length of 425mm, then Type 3 up to 525mm and then Type 4 to 575mm.
Ancon Two-Part Tie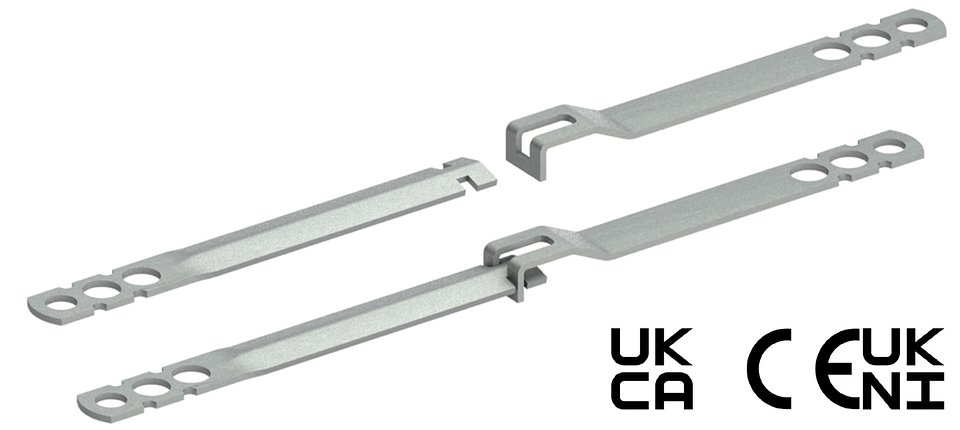 The Ancon Two-Part Tie is designed to overcome the problems associated with installing long ties.
Cavities exceeding 150mm require ties in a length that can be difficult to balance and keep horizontal during installation. An Ancon Two-Part Tie has one section that is built into the inner leaf and a second, interlocking section that is fixed as the outer leaf is constructed. An embedment of 75mm is required at each end. The inner tie is usually manufactured in lengths of 170mm with variation in the cavity width being accommodated by the length of the outer section. Where insulation thickness is in excess of 60mm, the inner section should be longer than the standard 170mm to ensure the connection between the two parts is made in the open cavity.
Using the standard inner section, Ancon Two-Part Ties sustain loads which exceed the requirements for a Type 2 tie to PD 6697 for cavities up to 400mm.
Recommended Fixing Centres for Two-Part Ties
| Inner Section (mm) | Cavity (mm) | Type 1 | Type 2 | Type 3 |
| --- | --- | --- | --- | --- |
| 170 | 150-400 | 600x450 | 900x450 | 900x450 |
| 171-230 | 150-400 | 375x450 | 750x450 | 900x450 |
Note: Centres shown achieve equivalent tie type performances to PD 6697: 2010 6.2.2.5 Table 12.
Insulation Retaining Clips can be supplied to fit the inner section.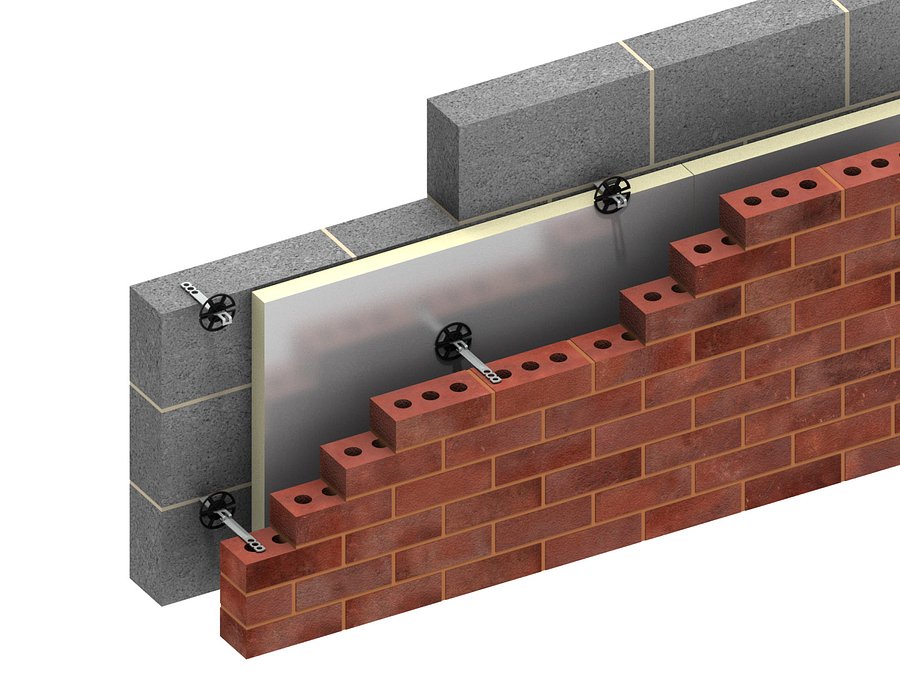 Related Blog Posts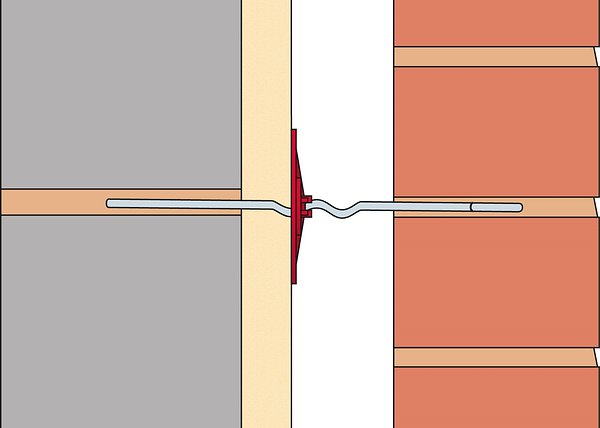 Insufficient embedment of wall ties in the mortar joints of masonry cavity walls compromises wall tie performance and could lead to the collapse of walls.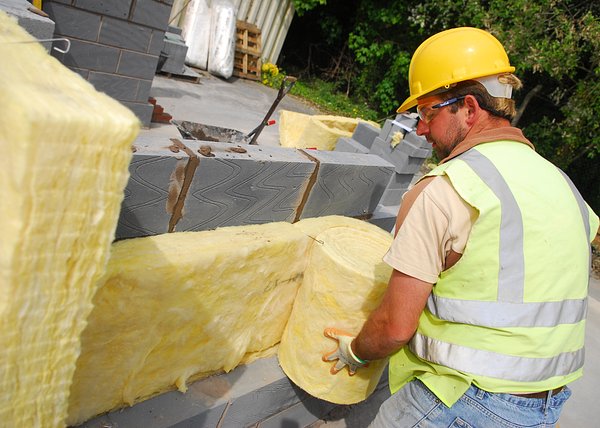 This post discusses the most common problems associated with the incorrect use of cavity wall ties and how to overcome these.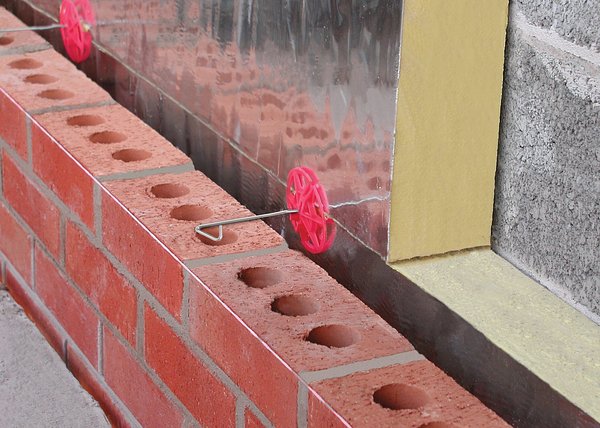 Wall ties, sometimes called 'brick ties', are used in buildings with cavity walls. They are used to join the two leaves of a cavity wall together.
As a future-oriented, innovative company Leviat focuses on the ever-changing requirements of the industry, and our latest development combines the portfolio of Ancon and Halfen Tension Systems to ensure we meet the individual requirements of our customers.
Materials, products and services define how our world is built and is why Leviat is gearing up to sponsor and showcase an incredible line-up of innovative solutions from its world leading range of connecting, fixing and anchoring products at Futurebuild 2023.