How to ensure sufficient embedment of wall ties
Insufficient embedment of wall ties in the mortar joints of masonry cavity walls compromises wall tie performance and could lead to the collapse of masonry. Wall ties are structural fixings and their importance to the stability of a building is often overlooked on site.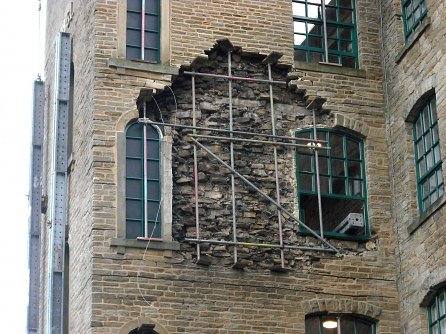 Insufficient embedment could be the result of either the wrong length of wall tie being used i.e. wall tie is too short to achieve the minimum embedment in each leaf, or the correct length of wall tie is used but over-embedment in one leaf has left less than minimum embedment in the other leaf.
Contractors should always purchase the wall tie type specified, and in the length specified, by the project architect or engineer. Ancon is available to help both specifiers and contractors with the correct selection and specification of its wall ties.
Before work commences on site
Contractors are advised to double-check that the recommended wall tie embedment depth (typically designed at no less than 62.5mm) can be achieved with the wall ties available on site and the wall construction about to be undertaken. Raising issues with incorrect specification or product purchase at this stage could save time and money later down the line.
During construction
Every effort should be made to maintain the designed cavity width on site, to ensure consistent wall tie embedment.
Symmetrical Ancon wall ties (HRT4, RT2, ST1 and Teplo-BF) accommodate some site tolerance in their length, for variations in both cavity width and centring of the tie. We recommend wall tie lengths that provide a minimum design embedment of 62.5mm in each leaf, however, in line with PD6697:2010 and Approved Document A, the minimum wall tie embedment (taking all site tolerances into account) is 50mm. Longer wall ties will be required where cavities are outside the tolerance offered.
Centring of symmetrical wall ties
Masonry-to-masonry wall ties are typically symmetrical. Symmetrical wall ties should be centred from the middle of the cavity to ensure equal embedment in each leaf.

Typically, each wall tie length can cater for a 25mm cavity range. For example, a 200mm wall tie is suitable for cavities from 50mm to 75mm, a 225mm wall tie is suitable for cavities from 75mm to 100mm etc. In a 50mm cavity, the designed embedment depth of a 200mm long wall tie will be 75mm in each leaf. In a 75mm cavity, the designed embedment depth of a 200mm tie will be 62.5mm in each leaf.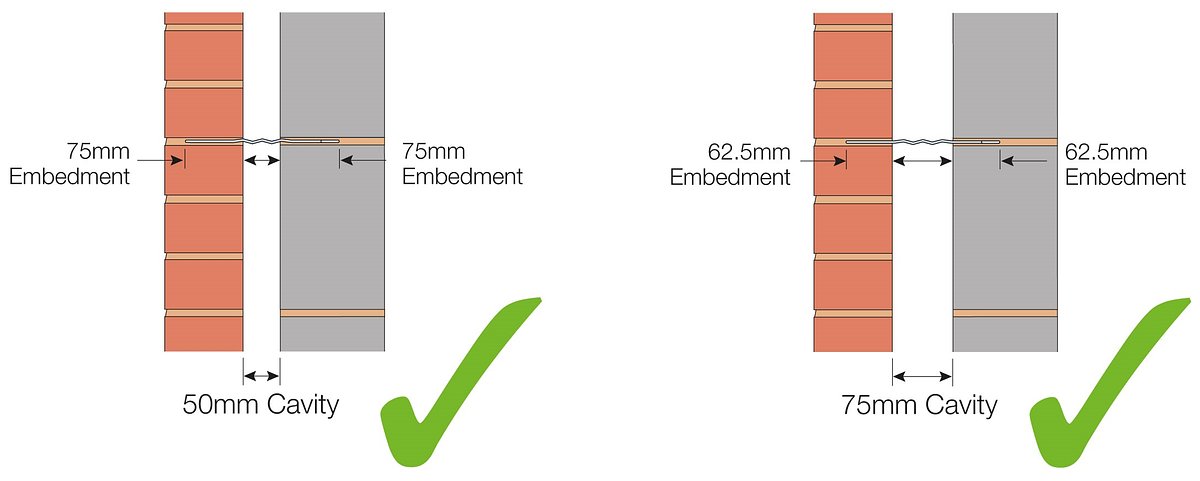 Typical Recommended Wall Tie Embedment in Each Leaf
Standard Tie
Length (mm)

Cavity Width (mm)
50
75
100
125
150
200
75
62.5
-
-
-
225
-
75
62.5
-
-
250
-
-
75
62.5
-
275
-
-
-
75
62.5
Wall ties should be centred from the middle of the cavity. The cavity width is measured between the inner faces of the masonry units and does not take insulation depth into account.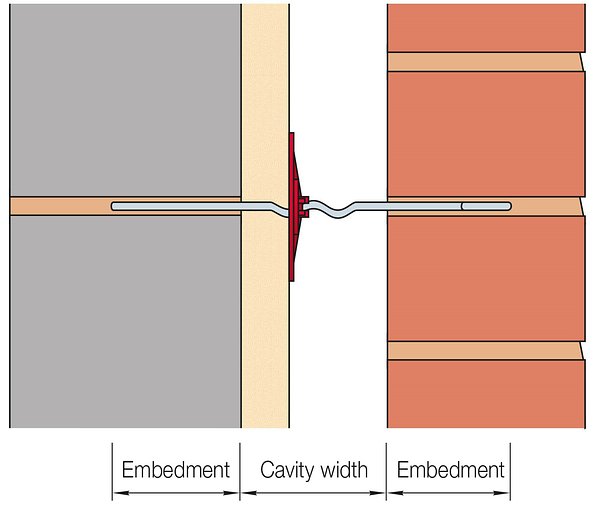 The centring of wall ties is easier to achieve on site when both leaves of a cavity wall are built at the same time. This construction method also removes any dangers to site workers/visitors associated with wall ties protruding from a pre-built inner leaf on site.
When building the inner leaf ahead of the outer leaf, centring of the wall ties is more difficult as the actual embedment in the outer leaf is not confirmed until phase 2. Where this construction method is employed, the wall tie embedment depth should be calculated and communicated before work starts so all bricklayers on a site know what is required. Also the wall tie embedment depth should be measured regularly to ensure on-going accuracy. Using features on the physical wall ties as a visual guide may help bricklayers to maintain embedment depth e.g. length of wall tie end design, measurement to first drip etc.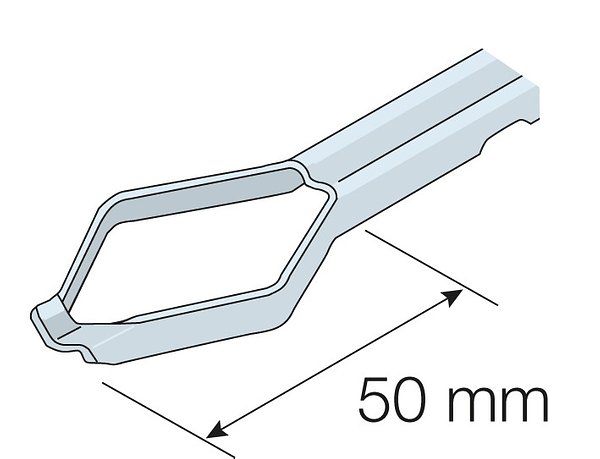 Over-embedment in the inner leaf could lead to under-embedment in the outer leaf and adversely affect wall tie performance. Expensive and time-consuming remedial action will be required where the minimum embedment depth of the specific wall tie used is not achieved in either leaf and could involve the taking down and re-building of a wall. If not corrected, it can lead to serious structural defects including the collapse of walls.
To confirm, when building masonry cavity walls, contractors should always:
• Check the project specification for type and length of wall tie

• Check the wall tie manufacturer's technical literature for recommended embedment depth

• Check this embedment depth is achievable on site with the given wall ties, the intended wall build-up and the construction process being employed, before work starts

• Centre symmetrical wall ties, so equal embedment is achieved in each leaf OR

• Consider longer ties, and gain approval for changes, if deeper embedment is required to prevent ties overbalancing when one leaf is to be built ahead of the other (fast-track construction)

• Communicate the required embedment depth to all bricklayers on site

• Maintain cavity width on site


For more information on the most suitable wall tie for your building project, please download the Ancon technical brochure.
As a future-oriented, innovative company Leviat focuses on the ever-changing requirements of the industry, and our latest development combines the portfolio of Ancon and Halfen Tension Systems to ensure we meet the individual requirements of our customers.
Materials, products and services define how our world is built and is why Leviat is gearing up to sponsor and showcase an incredible line-up of innovative solutions from its world leading range of connecting, fixing and anchoring products at Futurebuild 2023.