Ancon women who #ShapeTheWorld - Senior Engineer Harriet Cotton
Aimed at raising the profile of women in engineering and inspiring women from across the globe to take up engineering roles, International Women in Engineering Day is an annual international awareness campaign which was initially founded in 2014. In the 7 years since it began, the day has become a vital tool in celebrating, and raising awareness of, the amazing career opportunities available to girls and women in the industry.
For 2020, the theme of the campaign is #ShapetheWorld, so, we wanted to celebrate the achievements of our own outstanding female engineers by finding out more about them, why they chose engineering and what advice they'd give to women considering it as a career path.

First in our series of interviews, we spoke to Senior Engineer, Harriet Cotton.
Hi Harriet, thank you for joining us! We'd love to get to know you, and find out more about your job as an engineer here with us.
What influenced you to pursue a career in engineering? Was it something you wanted to do from a young age?
I really considered a diverse range of careers as I was growing up. I only fixed a career in my mind when I applied to university. Before that, my highest priority was to go travelling and I spent a year teaching English in China. When that year came to an end, I was really thirsty to go to university and I was relieved that a degree in engineering was still something that excited me. So, no, it wasn't something I'd always wanted to do but I do think it suits me, and my skills, very well.
What qualifications did you get to help you secure an engineering role?
I completed a Master's Degree in Structural Engineering with Architecture at Edinburgh University.
Why did you apply for your role here with us?
Prior to working at Ancon, I had spent 7 years working as a consulting structural engineer in London. I was looking for a change. The move north presented a good opportunity to try a different kind of engineering role. Working as a design engineer for a respected manufacturer was a really attractive opportunity for me.
Could you describe your current job role as Senior Engineer; what is a typical day at work like for you?
My role can be extremely varied, as it encompasses Research and Development as well as technical support. I typically have one or two big projects on the go which involve in-depth interpretation of design codes, as well as developing design methods which both suit our products and are adaptable enough for the range of applications they are appropriate for. At the same time, I offer support on technical queries from customers, which usually relate to specific ongoing construction projects.
What do you love about your career?
I have a strong (slightly geeky) passion for maths and physics, which I indulge on a daily basis!
I really enjoy the collaborative team work and problem solving elements too. Engineering frequently requires working with other parties, and within various constraints, to achieve an optimum solution. It is rarely the solution you would have arrived at alone, or without the benefit of other people's input and insight.
What accomplishments are you proudest of in your career, and what has been your favourite project?
I am really proud of my first big project at Ancon, which was the release of a new version of the Shearfix design software. It took about two years to complete, and there were plenty of technical challenges to solve along the way! It was such a great feeling when it was finally completed and launched.
In my current role, I am slightly removed from specific construction projects, so I'm glad I had that experience in my previous roles. There's something awesome about walking past or entering a building after playing a key role in its design or construction; after witnessing and playing a key part in each stage of its realisation, from conception to completion. So my favourite projects are some of these buildings and structures , for example the Apple Store in Soho, New York where I designed the internal glass staircase, bridge and balustrades; and The Peak building in Victoria, London which is a retail and office building opposite Victoria Train Station. I monitored the installation of the building façade over many site visits, flagging up any concerns during the installation and ensuring they were resolved as swiftly as possible.
If you could choose any project in the world to work on, what would it be?
100% my house! We have recently moved into a house that will benefit from some renovation and I'm really excited about it. Not just for the home it will become but also the process of getting there.
What are your aspirations for your future career?
Recent restructuring of my team has opened up opportunities for increased collaboration with colleagues in overseas offices. I'm really excited about this evolution, not only because it means that I can access a greater pool of resources to support the projects I'm working on, but also because I will have an opportunity to work on a greater range of new projects; exciting times definitely lie ahead!
In your opinion, why is it important that more women take up engineering and STEM roles in the future?
Without women, the engineering world is missing out on 50% of the world's skills, insight, creativity, intelligence and ambition. Engineering and STEM roles need women! And from the perspective of an individual considering career directions, why not chose a role in engineering which can be both challenging and rewarding?!
What advice would you give to a young woman considering a career in engineering?
It would be the same advice that I would give to any person considering a career in engineering: Look into all of the different fields of engineering because "engineering" covers a really broad range of disciplines. Then try to get work experience or a taster of areas that interest you. Then go for it!
How do you think female engineers can help to #ShapeTheWorld?
Women can bring different life experiences and perspectives to the field of engineering. Increasing the diversity of ideas brought to the industry will always result in more effective and innovative solutions. There's no doubt that female engineers can shape the world!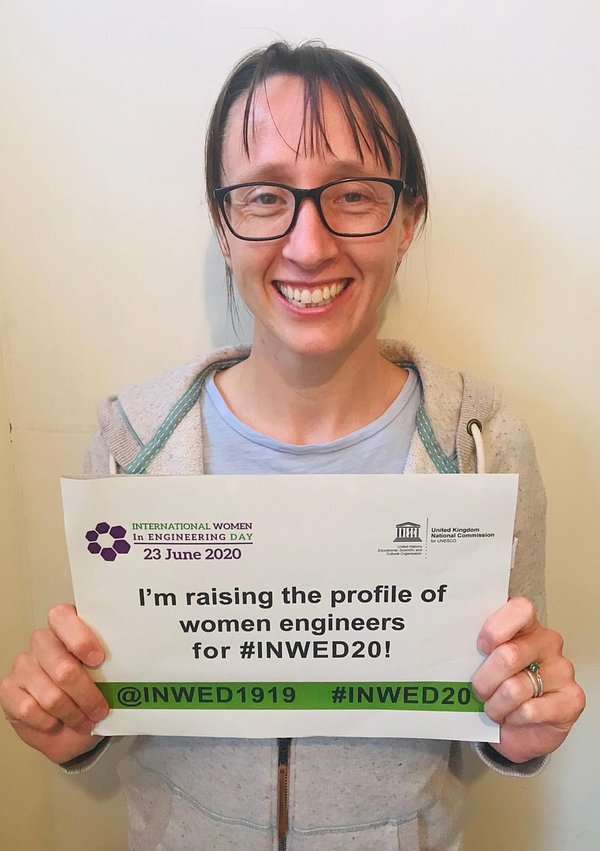 You can find out more about International Women in Engineering Day here.
As a future-oriented, innovative company Leviat focuses on the ever-changing requirements of the industry, and our latest development combines the portfolio of Ancon and Halfen Tension Systems to ensure we meet the individual requirements of our customers.
Materials, products and services define how our world is built and is why Leviat is gearing up to sponsor and showcase an incredible line-up of innovative solutions from its world leading range of connecting, fixing and anchoring products at Futurebuild 2023.