Everything you need to know about post-Brexit product approval regulations for construction products
As the dust settles on the UK's Brexit negotiations, it is only now that the full implications of our break from Europe are beginning to be felt in the market.
In the Construction Industry, a hot topic right now is product standards, and, at Leviat, we are again leading the way with new approval markings across our market-leading range of Ancon stainless steel masonry restraint and support systems.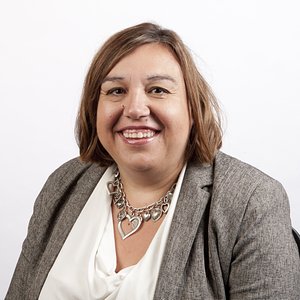 We caught up with Leviat's Masonry Product Manager, Kerry Davies - who has over 20 years' experience in the industry - as she explains the implications of the new regulations and how early action was essential to ensure the continued supply of our products to projects and customers across mainland Europe, Ireland and the UK.
Background
After years of stability, with manufacturers, specifiers, and contractors able to rely on the globally recognised CE mark for reassurance that a product complied with Europe's harmonised standards and was therefore approved for use throughout all EU countries, the safety net has suddenly been taken away.
At midnight on 31st December 2020, the UK's independent Testing, Inspection and Certification companies that had, over the past decade, produced the mountain of test data needed to support hundreds of UK CE mark certifications, lost their European status. This meant that the test data they had produced would no longer be accepted in Europe or the Republic of Ireland for the purposes of CE marking.
To make matters worse, we did not know for certain what new rules and procedures would be provided for CE Certification. Even at the eleventh hour, negotiators were still threatening no-deal, and even now, much of the detail has yet to be agreed.
Early action was needed
In May 2013 and as Ancon, we led the steel fixings industry on CE Marking becoming one of the first UK companies to achieve the necessary requirements to mark our fabricated stainless steel components to the harmonised European standard EN1090.
When we realised that, post-Brexit, approval and marking procedures would have to change, we began planning our post-Brexit strategy early in 2019 to ensure we remained at the forefront of the Industry.
This early action was essential to ensure the continued supply of our stainless steel support systems, wall ties and other fabricated products to projects and customers across Europe, the UK and Ireland, and to smooth the transition to the new standards and procedures across our supply chain as much as possible.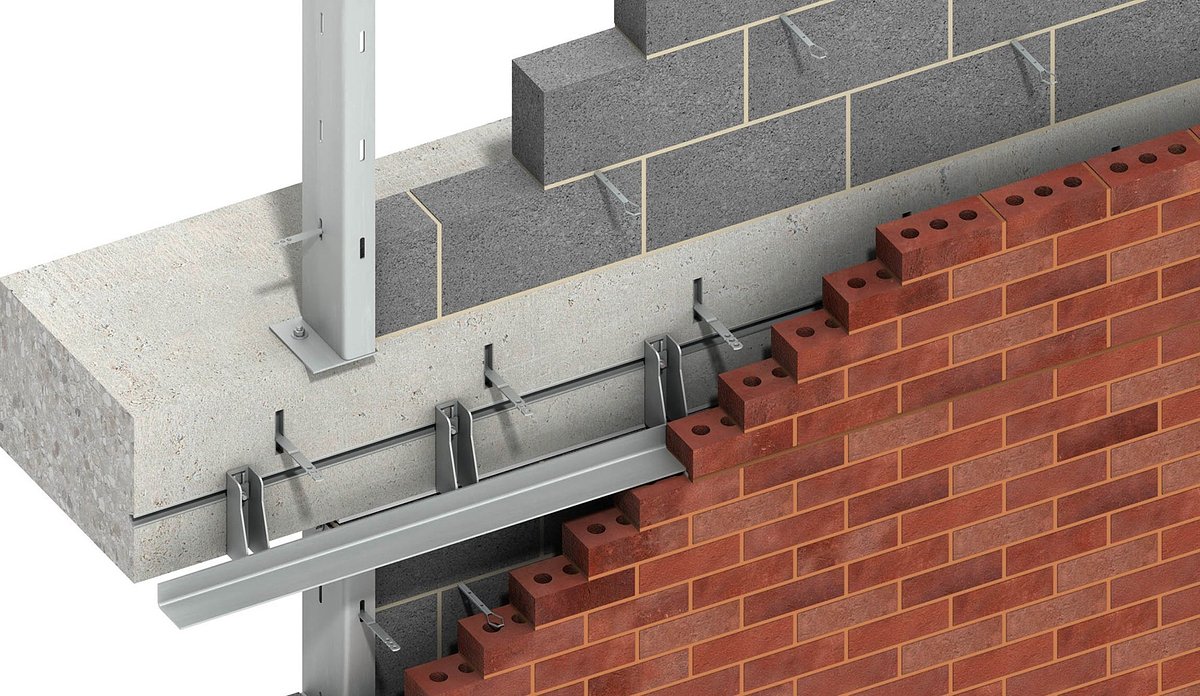 Cross-team approach
The task ahead was daunting, as we knew the change would impact every area of the business, from product marking to packaging, supporting literature and declarations, commercial procedures and even our on-line presence. At that time, repeating product testing across the whole Ancon range also remained a possibility.
We established a high-level project team, led by product managers, and supported by technical, marketing and sales experts across the company. Our objective was to quickly understand where the changes were likely to come and what their implications might be; investigate the possible routes to approval and plan the mountain of work that would be necessary to have new procedures and approvals up and running by the changeover date.
Thanks to our market position, active role on the BSI Committee for masonry ancillary components and membership of the CE Marking Association, British Stainless Steel Association and the Building Alliance, we were able to quickly draw together the information required.
One of the first tasks for the team was to identify a core range of products for each geographical market, to ensure these could be appropriately marked and packaged to prevent conformity issues in the different countries.
Early breakthrough
An early breakthrough came when it was confirmed that the UK audits for EN1090 and test data for EN845, which supported our CE Notifications, would remain valid for Europe, if underwritten by an EU27 Notified Body, as recognised by the NANDO database.
Working through BSI, we arranged for BSI UK to undertake a full audit of all Ancon product related EN1090 procedures, factory production control and welding certification, which was then sent for further compliance and ethical checking by their sister organisation, BSI Netherlands, who provided the necessary underwriting. For our core Wall Tie range, we arranged for Lucideon (formerly CERAM) to use their partnership with TZUS, in the Czech Republic, for underwriting of their original UK EN846 test data.
This ensured that we could continue to sell our core ranges of masonry support and wall tie products, complete with CE mark and full European approval, into the European market and ROI after 1st January 2021.

New certification procedures and approvals for the UK (excluding NI)
Whilst the underlying manufacturing and performance standards for the UK and Europe will essentially remain unchanged, at least for the foreseeable future, it is likely that, in the longer term, the UK will wish to make changes to suit UK market needs and policy.
With effect from 1st January, therefore, the UK has introduced the UKCA standard - a new UK-based approval system. Following an initial transition period during which the CE standard and mark will continue to be accepted, UKCA will become the standard for all construction products manufactured and sold in the UK.
Clearing confusion for UK marking
It is clear from the number of calls we receive that there is still confusion amongst users, as well as some other manufacturers, concerning UK product marking.
It is worth stressing at this point, therefore:
The new changes apply only to products manufactured after the 31st December 2020 – products manufactured before that date can continue to be sold and used throughout the UK and Europe based on the pre-2021 standards.
The CE mark will only be accepted in the UK until 1st January 2022 (i.e. during the transition period) providing the testing has been undertaken by an EU 27 Notified body (or is underwritten, as above).
The CE mark cannot be applied to UK manufactured products after 1st January 2021 if testing has been carried out by a UK approved body only.
Any manufacturer who wishes to continue to sell products into the UK market, but has only UK Approved body testing, must apply the new UKCA mark to those products from 1st January 2021.
Leviat's response
With effect from 1st January, we have applied the new UKCA mark to all Ancon products for the UK which are covered by the current Designated standard, where testing has been undertaken by a UK approved TIC company.
In the case of products such as our Ancon masonry support systems, windposts and fabrications, individual type testing is not possible due to range and complexity, and current CE status is therefore granted under Leviat's EN1090 certification. New UKCA status has automatically been applied on the same basis. Ancon Wall Ties, already tested in the UK by Lucideon, also automatically qualified for UKCA status and are now marked accordingly.
Ireland
The Irish Republic is not part of the UK and, from 1st January, will only accept CE marked products.
The most popular Ancon masonry reinforcement and wall tie products for this market now have testing data underwritten by a European Notified Body and carry the required CE Mark from 1st January 2021.
Northern Ireland will not, however, use the UKCA mark, because of its unique post-Brexit status. Manufacturers have a choice of using the standard CE mark, where testing is underwritten by a European Notified Body, or a new CE UKNI mark, where testing is carried out by a UK Approved Body.
From 1st January, all of our Ancon products sold into Northern Ireland will carry the new CE UKNI mark, except the core range of masonry reinforcement and wall tie products, underwritten as above, which will carry the standard CE mark.
Completing the package
Establishing the new approval procedures and markings turned out to be just the tip of the iceberg, as we then had to ensure that all supporting paperwork, hard copy and on-line literature, declarations and product packaging carried the correct approval information.
For customers who wish to check the marking status for Ancon products in their markets, our new, easy to use, on-line guide will also be available very soon.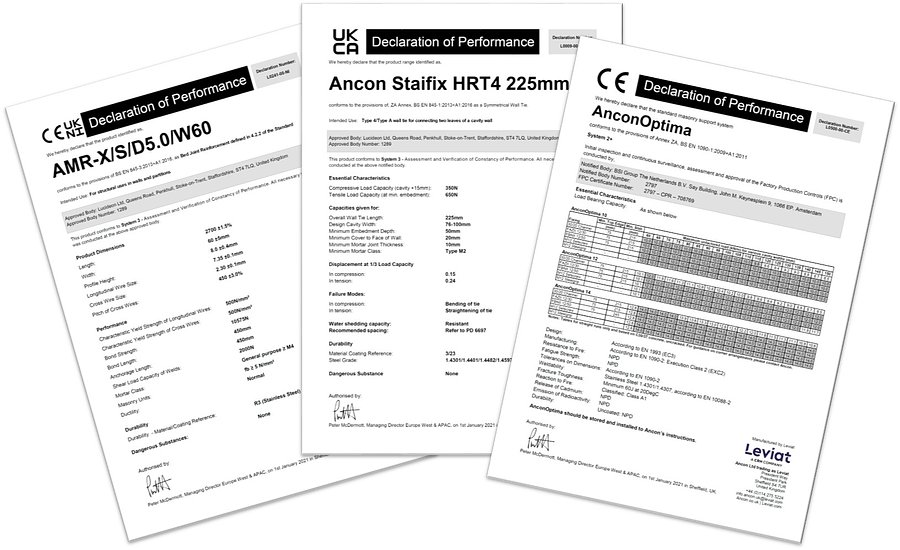 The future
It is still possible that the UK and Europe will be able to negotiate a mutual recognition agreement that will enable UK approved TIC companies to retain their European Status, and thus do away with the need for underwriting. In the meantime, we are faced with different regulatory models for Europe, the UK and Ireland.
Thanks to great teamwork, however, our product marking, and all associated changes were completed on target, and implemented on 1st January. Customers and specifiers can therefore be assured that, when they are ready to change, or if local requirements change, once again, Leviat is leading the market with a comprehensive range of fully approved Ancon solutions for all of their masonry support requirements.
Need further information?
Contact us on 0114 275 5224 or email info.uk@leviat.com
As a future-oriented, innovative company Leviat focuses on the ever-changing requirements of the industry, and our latest development combines the portfolio of Ancon and Halfen Tension Systems to ensure we meet the individual requirements of our customers.
Materials, products and services define how our world is built and is why Leviat is gearing up to sponsor and showcase an incredible line-up of innovative solutions from its world leading range of connecting, fixing and anchoring products at Futurebuild 2023.