How to join a new wall to existing brickwork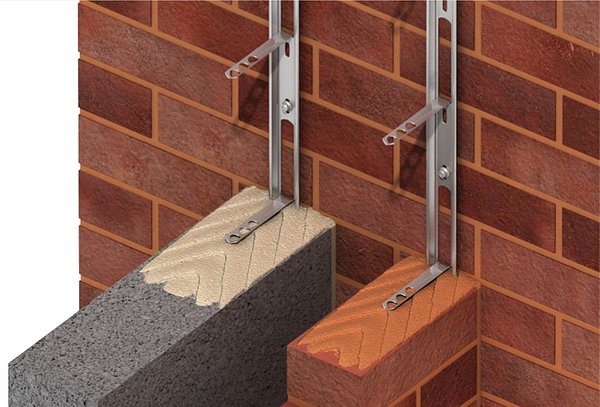 There are various occasions when a new wall needs to be tied into existing masonry e.g. house extensions, garden walls and conservatories.
Using the latest fixing solutions for your project can reduce the time and cost involved. Wall starter kits are fast and easy to install and replace the traditional 'toothing out' method; they are particularly useful where the new wall joins in the middle of an existing wall to form a T shape but are equally suitable for building out parallel from a corner.
Traditional 'toothing out' method
Traditionally, when tying a new wall in to an existing wall a method called 'toothing out' was undertaken. This involves removing alternate bricks to leave a row of 'teeth' into which the new bricks are interlocked. This process can be time-consuming and therefore more costly than modern fixing methods, and care must be taken to ensure a good mortar bond between old and new brickwork.
When adding a new cavity wall to an existing building, wall starter kits are typically employed on the new inner leaf, even if 'toothing out' has been applied on the outer leaf, for simplicity.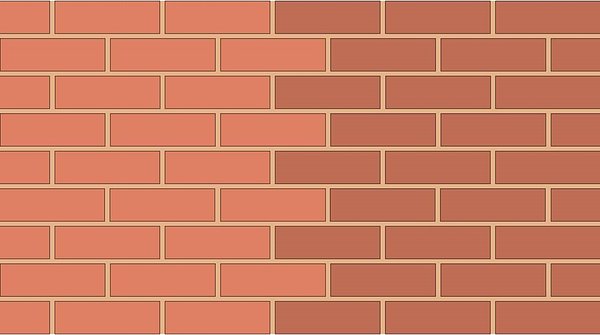 Wall starters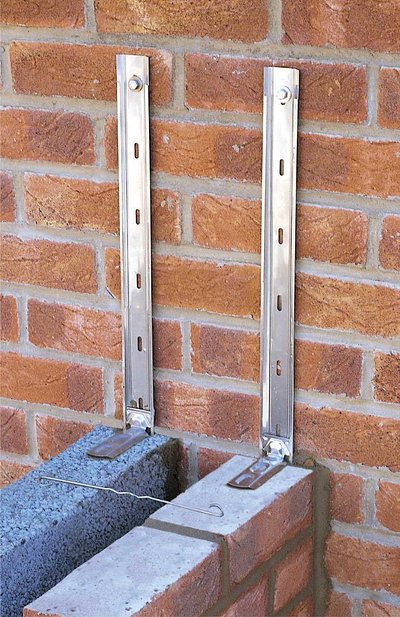 It is far more common to use a wall starter kit than to tooth brickwork these days. Wall starters are much quicker and easier, reducing construction time and therefore cost, and eliminate the difficulties of achieving adequate mortar bond at each 'toothed' connection.
Ancon supplies a range of wall starter systems and screw-in starter ties to join new masonry to existing brickwork; all of which have been independently tested and can be used in line with NHBC standards.
Channel and Tie Wall Starter Strips
All Ancon starter profiles are manufactured from stainless steel and are suitable for new wall widths from 60 mm to 250 mm. Stainless steel offers maximum corrosion protection and is suitable for both inner and outer masonry leaves.
Starter strips or channels are fixed vertically to the existing wall, positioned so they are central to the new masonry leaf. Kits include all wall ties and fixings to join one masonry leaf, 2.4 metres high.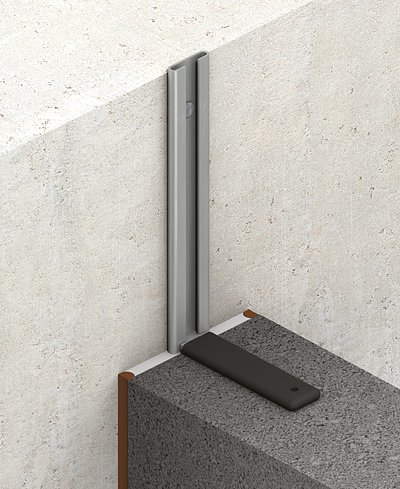 The Staifix QuickStart Wall Starter System features wall ties that are integral to the stainless steel starter strip and fold out at pre-set 225 mm vertical centres.
The Staifix Universal Wall Starter System features separate wall ties, supplied with the system, which locate behind the channel lips and slide within this fixing strip to course with the bed joints of any masonry unit.
The Ancon 36/8 Wall Extension System can be supplied with either Ancon SP36 ties or, where some longitudinal movement must be accommodated at the joint, Ancon PP36 ties complete with debonding sleeves. Ancon 36/8 channel can be supplied in lengths of up to 3.4 metres. This system is available as a kit comprising ten ties, a length of 36/8 channel 2400mm long and ten plugs and screws for fixing.
Screw-in Wall Starter Ties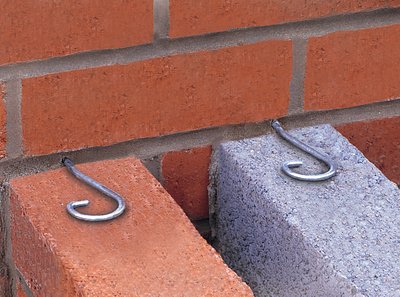 As an alternative to wall starter strips, the Staifix Starter Tie is a quick and simple solution which is available in packs of 10 ties.
Supplied complete with an 8mm nylon wall plug, this screw-in starter tie is fixed into the existing wall at an angle of 30° to the horizontal and bent into the bed joints of the new brickwork. These ties should be fixed at 225mm vertical centres and be central to each leaf of the new wall.
The Staifix Cavity Starter Tie is a simple way to connect a new inner leaf to an existing wall. It is ideal for applications such as barn conversions.
Building Regulations
Building Regulations ensure minimum design and construction standards are maintained and must be observed at all times. Before adding a new wall check with your building inspector to see if the cavity should be maintained, which will mean cutting into the existing walls so that the cavity continues uninterrupted, and whether a vertical damp proof course is needed between walls.
As a future-oriented, innovative company Leviat focuses on the ever-changing requirements of the industry, and our latest development combines the portfolio of Ancon and Halfen Tension Systems to ensure we meet the individual requirements of our customers.
Materials, products and services define how our world is built and is why Leviat is gearing up to sponsor and showcase an incredible line-up of innovative solutions from its world leading range of connecting, fixing and anchoring products at Futurebuild 2023.