Connections in construction: timber-framed structures
Timber-framed construction is a popular, proven building method, offering the benefits of rapid construction, minimal site waste and the use of a sustainable building material. Standardised timber wall panels and floors can be used with breathable membranes, insulation and vapour control layers to meet all thermal, acoustic and fire-performance regulations.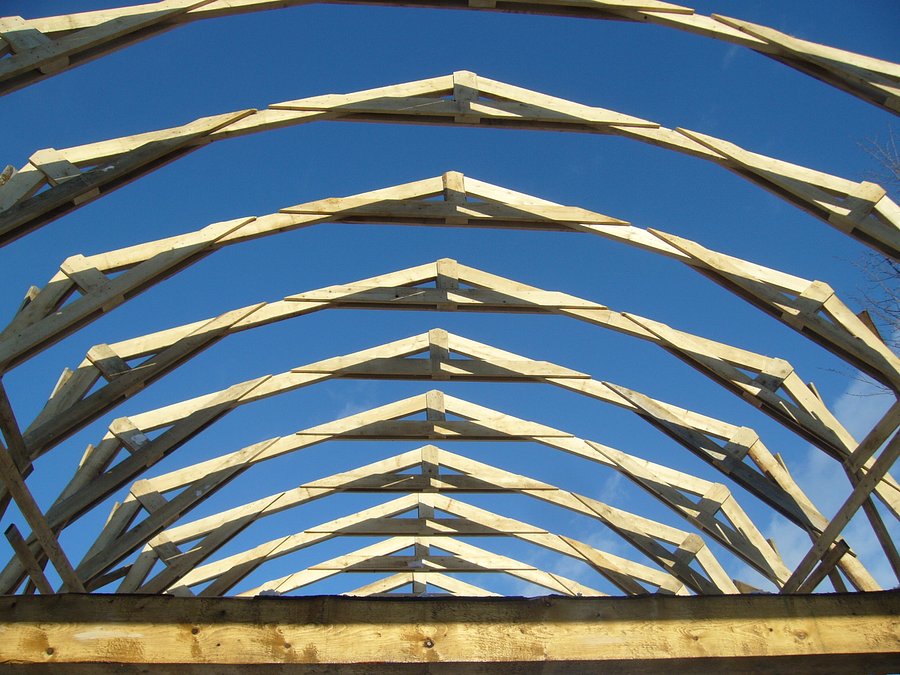 Fast, clean, efficient construction method
Prefabricated sections are often manufactured off site to tight tolerances ready for rapid assembly on site. Construction processes can take place in parallel, accelerating the programme time, with the result that brickwork can be taken off the critical path. Internal trades can work in a relatively clean environment, unaffected by progress on the external building envelope.
Timber-framed construction is most frequently used to build residential properties. The external walls of these buildings are often finished with an external brickwork skin. Since the timber frame is the load-bearing element of the building, the brickwork needs to be tied back to this frame. This is achieved using special timber frame wall ties, which also support and restrain the brickwork or masonry cladding.
Timber Frame Wall Tie Spacings
Timber frame ties should be installed at a minimum density of 4.4 ties per square metre in buildings where the basic wind speed does not exceed 25m/s (BS 6399-2:1997 Code of Practice for Wind Loads). The density should be increased to 7 ties per square metre in more severe situations, however Ancon recommends that, where the project falls outside of the scope of the tables displayed in our literature, a structural engineer should be consulted on the tie specification and spacing.
Timber Frame Tie Types
BS 5268 provides recommendations for wall ties for timber framed buildings. Information is provided for the type of structure, location, embedment, density and positioning. These ties are classified as Types 5 to 7; minimum declared values in tension and compression are listed for Types 5 and 6.

Although BS 5268 was officially withdrawn on the full implementation of Eurocodes in March 2010, timber frame wall ties should continue to be selected from Types 5 to 7 as given in Annex B of BS 5268 Part 6.1: 1996, until further guidance is made available.
Type
Application
Density
Maximum Building Height
Geographical Location
Type 5
Timber frame tie suitable for domestic houses and industrial/commercial developments of up to three storeys
4.4 ties/m²
3-4 ties/m at unbonded edges
15m
Suitable for flat sites in towns and cities where the basic wind speed does not exceed 25m/s and altitude is not more than 150m above sea level
Type 6
As Type 5 but suitable for developments of up to four storeys
As Type 5
15m
Suitable for flat sites in towns and cities where the basic wind speed does not exceed 25m/s and altitude is not more than 150m above sea level
Type 7
As Type 5 but suitable for developments of between five and seven storeys, being designed to accommodate the increased vertical differential movement
Calculated for actual performance required for each site location
18m
Calculated for actual performance required for each site location
Note: Refer to BS 5268-6.1: 1996 and BS 6399-2: 1997 for complete information.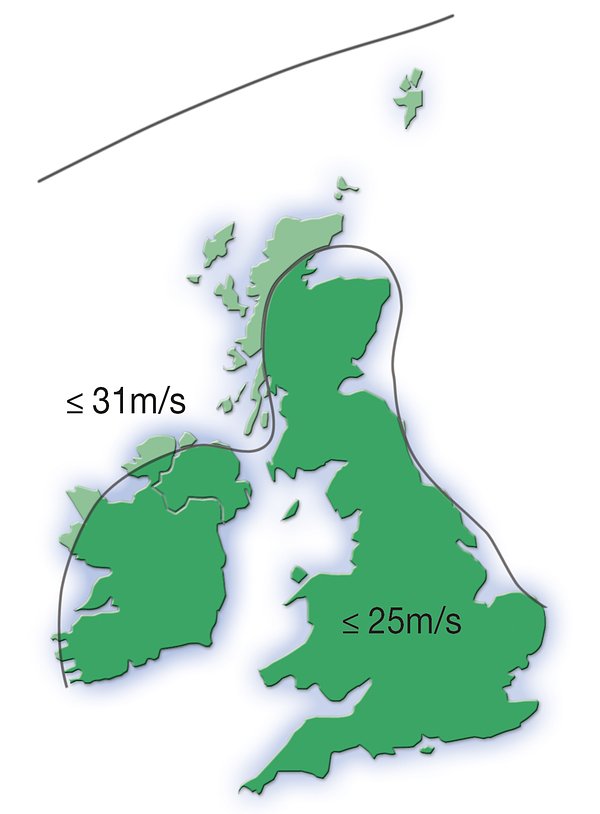 Tying timber frames up to 4 storeys in height
High strength stainless steel wall ties
To fix brickwork to timber-framed buildings up to four storeys high, the Staifix Timber Frame Tie (STF6) is the ideal choice. It is available in three standard lengths to suit 50mm, 75mm and 100mm cavities. The tie is simply nailed to the timber frame and inserted into the mortar bed between bricks as the brickwork is laid.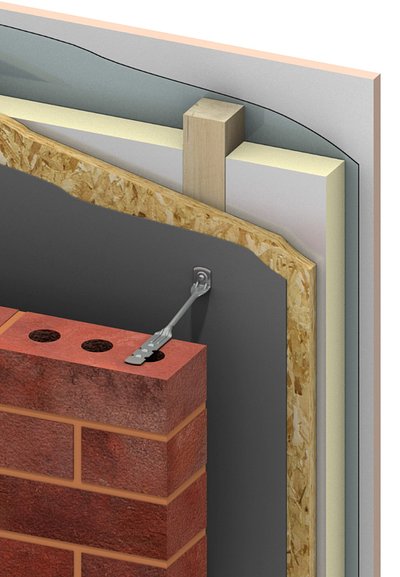 For other cavities up to a maximum of 150mm, or where insulation is used in the cavity, the Staifix Thor-Helical timber tie (TIM6) would be the more appropriate tie selection. This one-piece hammer-driven component can be used with our Universal Insulation Retaining Clip to restrain the insulation.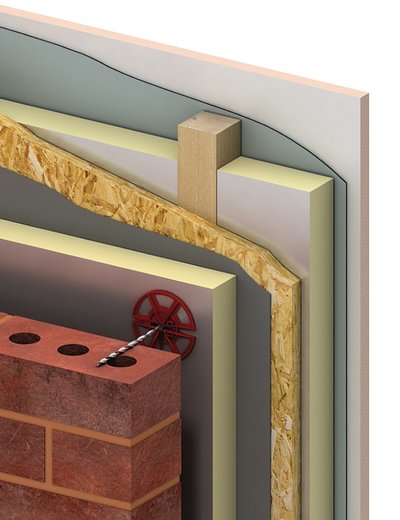 Both ties in the Staifix range have small cross-sectional areas and are thus thermally efficient enabling U-value specifications to be met. However, for high-end thermal specifications such as Passivhaus, it may be necessary to consider alternative materials in order to meet the required U-values and completely eliminate a metal thermal bridge.
Basalt fibre ties for energy-efficient building design
With energy efficiency a top priority in building design and specification, the Teplo-L basalt fibre wall tie offers a low-thermal conductivity option. This BBA-approved frame cramp can be used in buildings with cavities up to 300mm wide, which are often specified for today's super-insulated buildings. A Teplo-Clip insulation retainer is also available to restrain partial-fill insulation where necessary.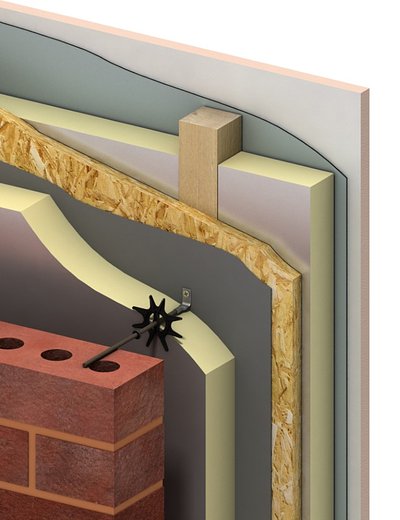 Tying in buildings exceeding 4 storeys in height
The wall ties discussed above accommodate up to 24mm of frame shrinkage and are suitable for buildings up to four storeys high. For buildings which exceed this height, frame shrinkage is often more pronounced. Frame shrinkage occurs shortly after the structure's erection when the timber dries out causing up to a 3% reduction across the grain of the wood.
For such applications, Ancon has devised the Timber Frame Movement Tie (TFMT7). It features a channel component which is screwed to the timber frame, and a masonry tie which slots into the channel and is free to move up and down. This tie allows for up to 60mm shrinkage in the frame when the tie is positioned close to the top of the channel.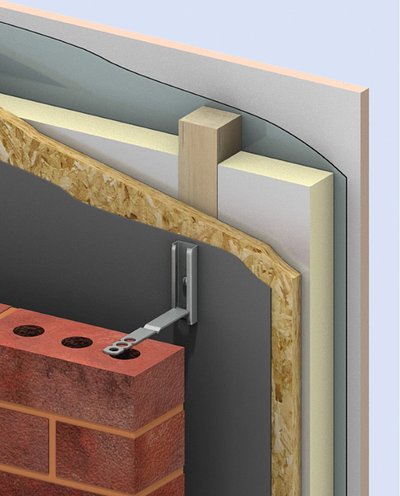 Brick supports for cross-laminated timber buildings
There has been recent growth in the use of cross-laminated timber (CLT) structures. In these buildings, the exceptionally strong timber panels themselves form solid, load-bearing walls, floors and roofs. The pre-fabricated panels offer a great way to rapidly build entire structures, whilst the manufacturing processes involved with CLT ensure that frame shrinkage and differential movement is much smaller than in traditional timber frames. Ancon has been quick to respond to the increasing use of CLT frames by designing a specialist range of masonry support systems for these structures. These bracket/angle systems, based on Ancon's popular MDC support system, are fixed to face of the CLT panels and provide support for up to 5m of brickwork. The supports are therefore usually positioned at each floor level in a building.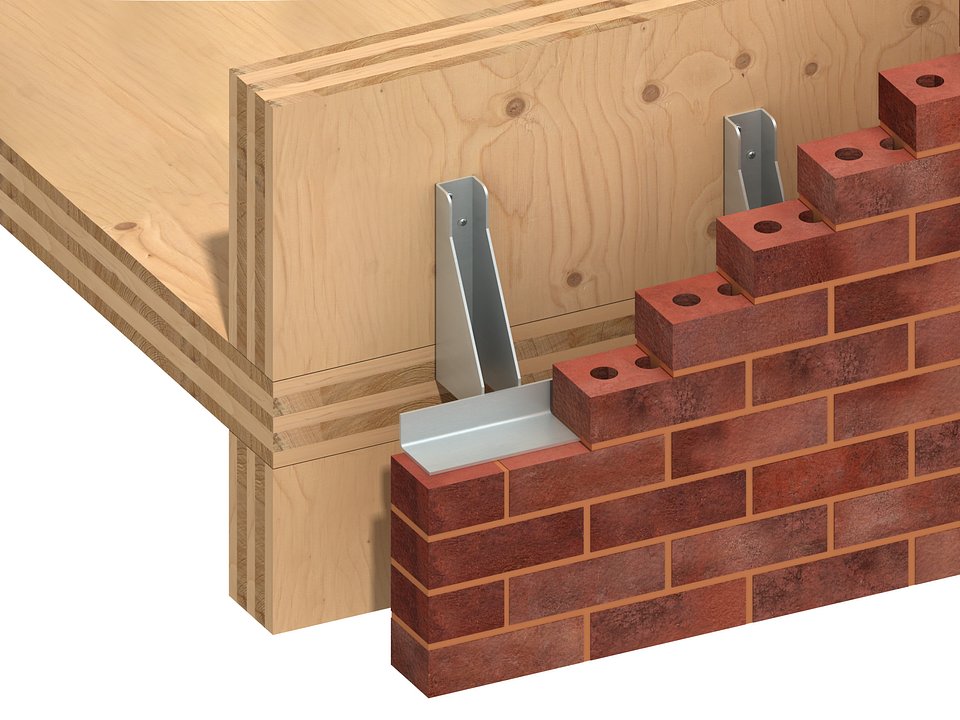 If you require help with a project featuring a structural timber frame, contact the Ancon Team on 0114 275 5224 or email info@ancon.co.uk.
As a future-oriented, innovative company Leviat focuses on the ever-changing requirements of the industry, and our latest development combines the portfolio of Ancon and Halfen Tension Systems to ensure we meet the individual requirements of our customers.
Materials, products and services define how our world is built and is why Leviat is gearing up to sponsor and showcase an incredible line-up of innovative solutions from its world leading range of connecting, fixing and anchoring products at Futurebuild 2023.