Using shear load connectors in structural and civil engineering concrete projects
Shear Dowel Applications for Reinforced Concrete Structures
There are many applications for shear connectors in all types of construction using reinforced concrete in both building and civil engineering contracts.
Building Applications
Ground Floor Slabs
Movement joints are usually required to divide a reinforced concrete ground slab into bays. DSD shear connectors are used to transfer shear load from slab to slab and to prevent differential settlement. Where adjoining bays are different sizes movement in two directions will occur, DSDQ shear connectors should be used in this situation.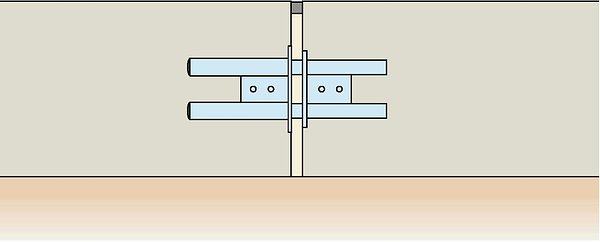 Suspended Floor Slabs
In suspended slabs, connectors should be placed at points of contraflecture where there is little or no bending moment and maximum shear force.

Structural Movement Joints in Frames
A common requirement in framed buildings is a structural movement joint to isolate one part of the building from another. Traditional practice is to provide a line of double columns. The use of DSD shear connectors reduces costs, speeds construction and increases floor area.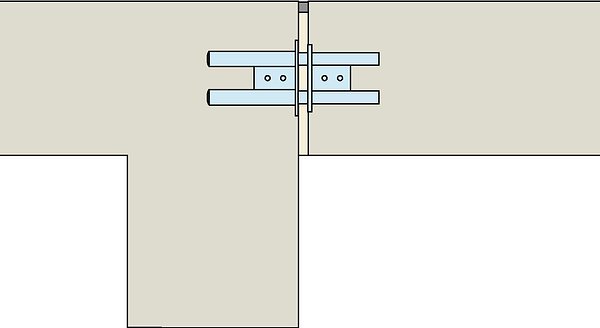 Beam to Wall or Slab Connections
Corbel and half lap joints are a problem to design and difficult and expensive to construct. The use of DSD shear connectors simplifies design and construction, producing a better detail.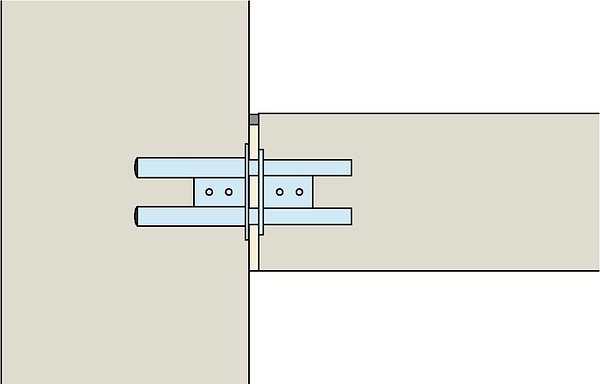 Barangaroo Cultural Centre, Sydney, Australia
Lend Lease has installed 1,300 slab-to-slab connectors from Ancon in the suspended post-tensioned concrete floor of the stunning Barangaroo Cultural Centre in Sydney. Use of these products at the temporary movement joints, in place of traditional pour strips, has significantly accelerated the build programme, saving both time and money. The design uses a combination of Ancon DSDQ double shear dowels and Ancon ALP locking pins to accommodate the initial shrinkage of the concrete and then allow the joints to be locked preventing further movement, whilst simultaneously transferring high shear loads in both the locked and unlocked state without the need for additional mechanical supports.

Sydney Olympic Stadium, Australia
Ancon DSD 100 shear load connectors were installed at the beam to slab locations at the Sydney Olympic Stadium which presented the 2000 games. Sports stadia of this size are subject to considerable loads. The structural movements must be designed to allow the necessary movement and load transfer to take place, ensuring the structure functions correctly.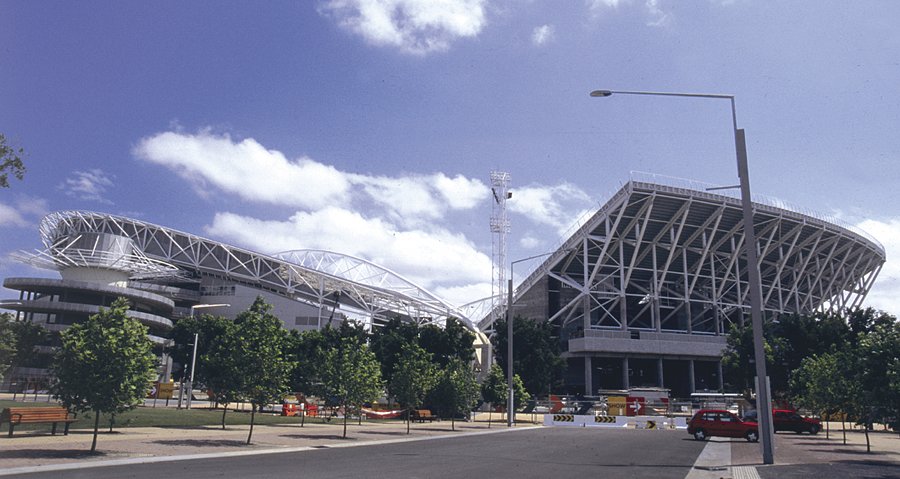 Manchester United FC Stadium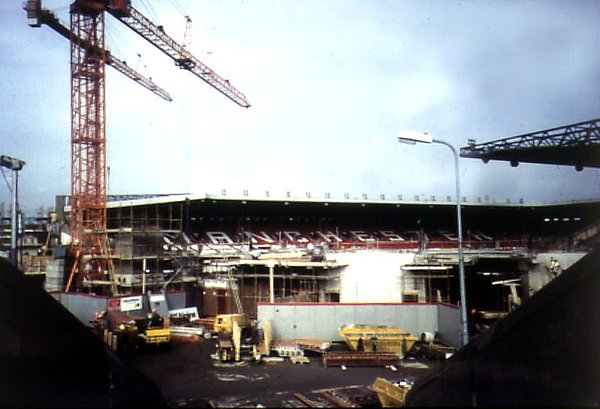 DSD shear dowels were used during the redevelopment of Old Trafford to form the beam to slab connection across the movement joints in the all-seat Stretford End. They were chosen as a cost effective, simple and proven alternative to double frames or the use of a corbelled column.

Client Manchester United plc
Architect Atherden Fuller
Structural Engineer Campbell Reith Hill
Contractor Alfred McAlpine
Multi-storey Car Park Manchester Airport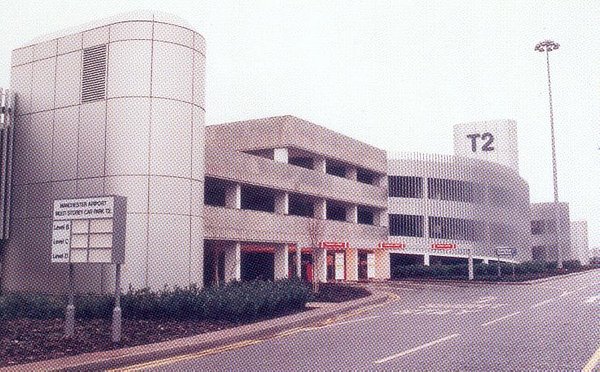 The car park at Manchester Airport's Terminal 2 is a multi-span, 3-4 storey, reinforced concrete portal frame, divided into three sections by two transverse movement joints. DSD Shear Connectors were used to connect the waffle slab to the portal frame adjacent to the movement joints. This removed the requirement for costly and architecturally obtrusive additional frames and maximised usable floor area within the structure.

Client Manchester Airport plc
Architect Smith and Way
Structural Engineer Hill Cannon Partnership
Contractor Norwest Holst
Civil Engineering Applications
Movement Joints in Carriageways
DSD shear dowels are used in carriageway joints to transfer high shear loads caused by traffic loading and for eliminating differential settlement.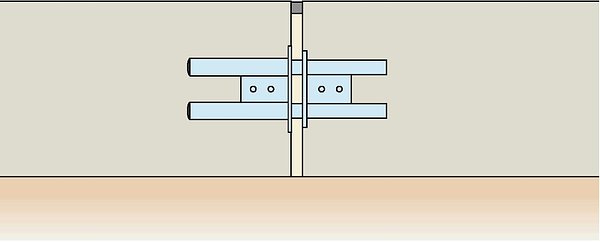 Bridge Abutments
DSD shear connectors are used vertically at bridge abutments to fix the bridge deck to the abutment. In addition to ease of installation, the use of DSD shear load connectors allows for the bridge deck to be jacked up for bearings to be replaced.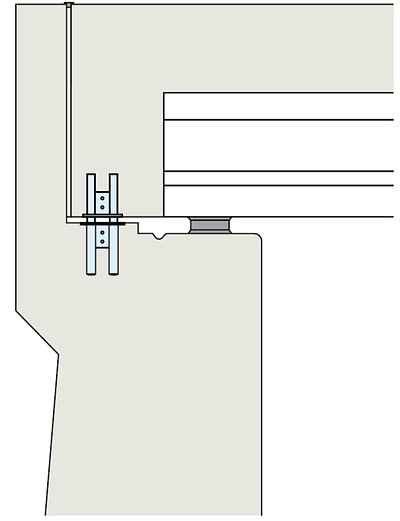 Joints in Parapets
The use of DSD shear dowels in the vertical joints in parapets is a simple and cost effective way of connecting the sections. The DSDQ facilitates significant rotation at the joint without reducing the horizontal shear capacity.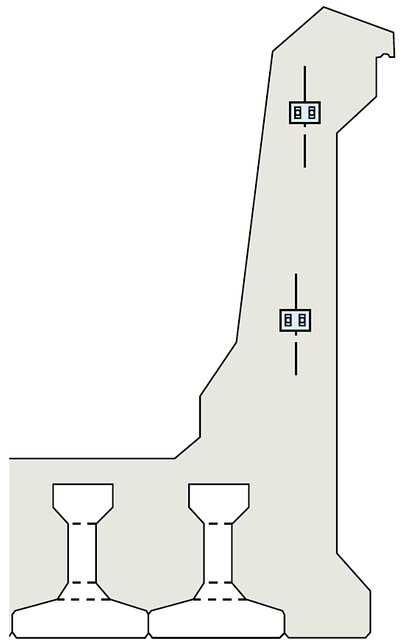 Diaphragm Wall/Slab Connections
Connecting road slabs to diaphragm walls can be a difficult and expensive operation. Forming recesses, or using post fixed dowels into site drilled holes presents many problems on site. DSD shear connectors provide a cost effective solution. The sleeve components are nailed to plywood formwork which is rigidly fixed to the reinforcement cage. After excavation the plywood is removed to reveal the faces of the sleeves. The dowel components can now be inserted ready to support the slab.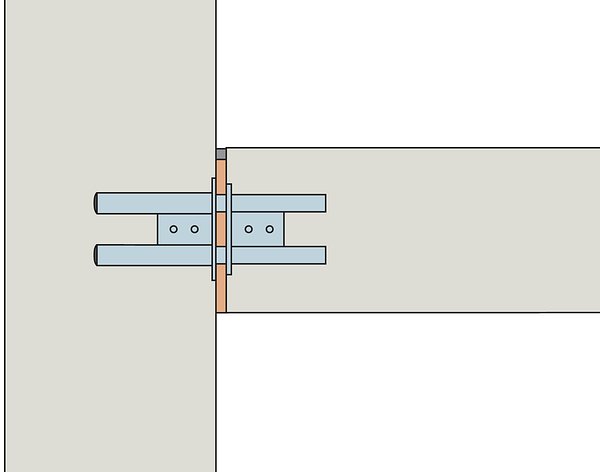 Contiguous Piled Wall/Slab Connections
Similar in application to diaphragm wall construction, DSD shear connectors are used to transfer shear load from slab to pile.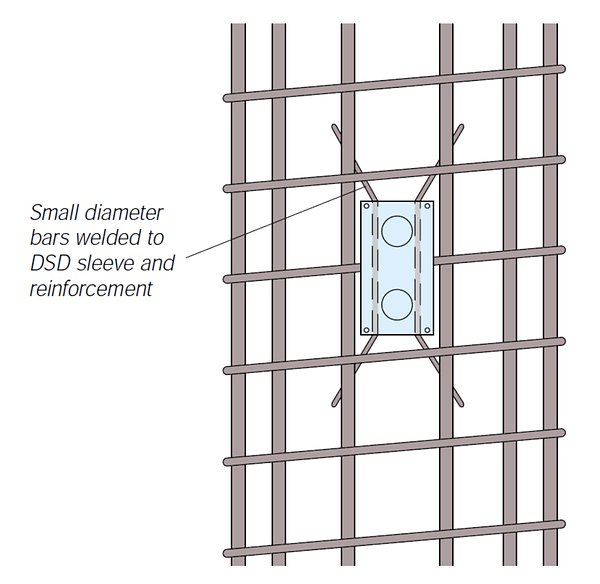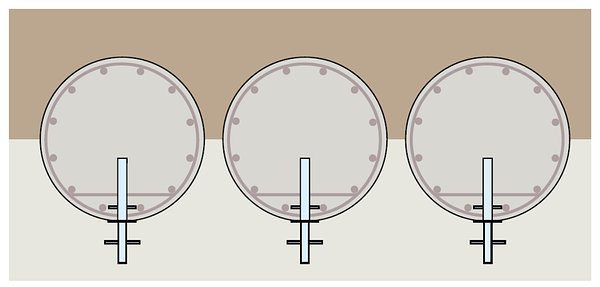 A57 Irlam and Cadisham By-Pass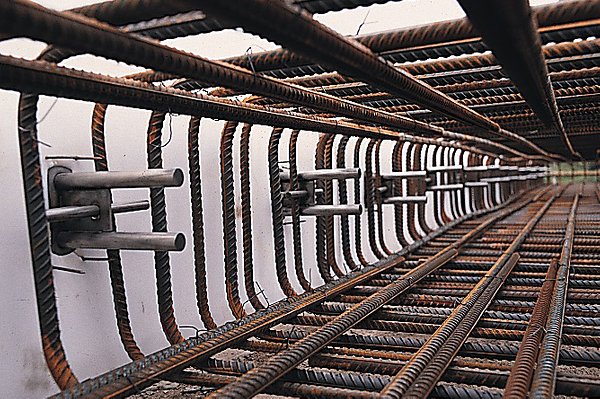 DSDs were used as shear load connectors at transverse movement joints between consecutive piled road slabs. High shear loads were expected due to traffic loading and differential settlement of the structure.

Client Salford City Council
Consulting Engineer Salford City Council
Contractor Birse
Channel Tunnel Terminal
DSD shear connectors were used between the in-situ bearing walls and the precast ramp slab units. The ramps transfer vehicles from overbridges to the tunnel shuttle trains.

Client Eurotunnel
Consulting Engineer Mott MacDonald
Contractor Norwest Holst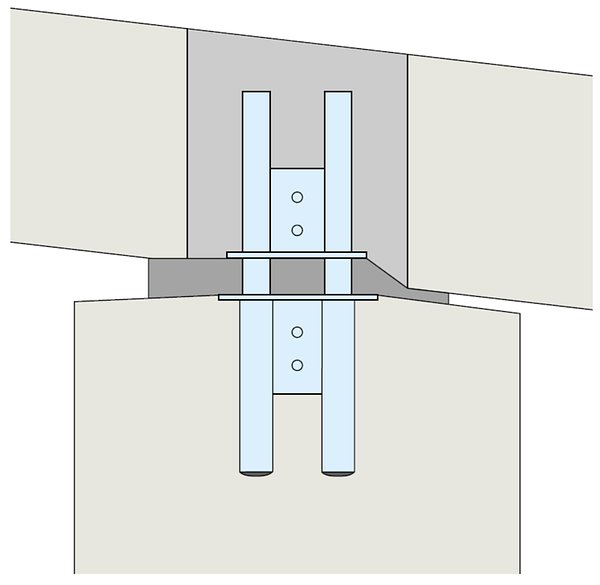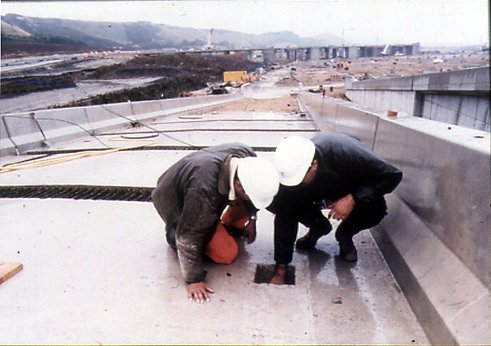 Bridge Parapets M6 Preston
A combination of the DSDQ 50 and ESDQ 20 shear load connectors was used to connect P1 parapets on the northbound carriageway of the M6 near Preston. The ESDQ was chosen for its suitability in slender sections and was installed without problem into the narrow gap between the vertical reinforcing bars.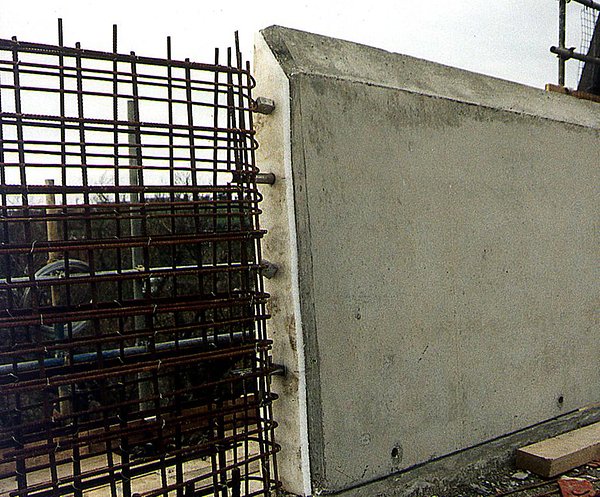 Precast Parapets
DSD shear connectors are used in many precast applications including parapets. The sleeve components are cast into one end of each parapet section and a pocket left for installing the dowel component at site.
Bute Town Link Cardiff
Several options were considered for the connection between the road base slab and the diaphragm wall in the cut and cover tunnel in Cardiff. DSD 150s were selected as the most cost effective way of transferring the very high shear loads due to hydrostatic pressure on the road base to the diaphragm wall.
Client South Glamorgan County Council
Consulting Engineer South Glamorgan County Council Engineering Consultancy
Contractor DMD/Cogefarimpresit, Joint Venture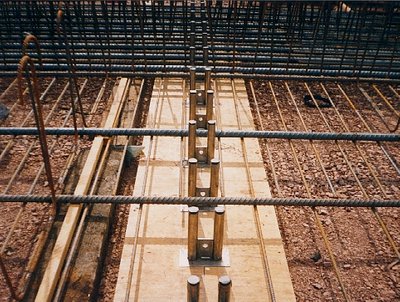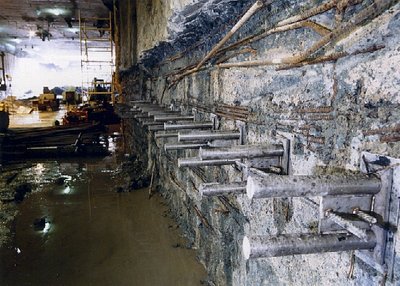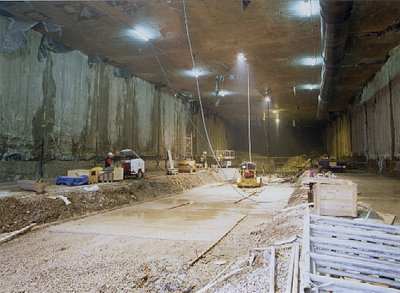 Jubilee Line Extension
DSD Shear Connectors have been used on many of the stations on the extension to the Jubilee Line in London. Canary Wharf, Westminster, Bermondsey and Canning Town stations have all been built using Ancon Shear Connectors. At Bermondsey station, special DSD 740s were used to transfer shear load from a beam to a wall. The DSD 740s had two 74mm dowels and a service load in excess of 450kN.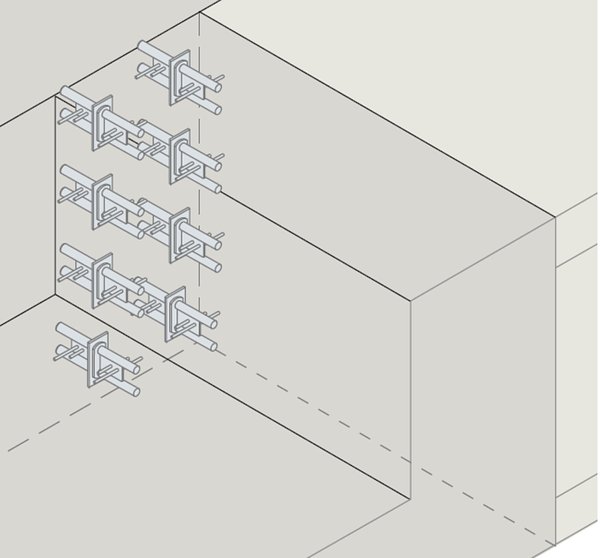 A50 Blyth Bridge to Queensway
DSD Shear Connectors were used at the expansion joints in the walls and base of the concrete road trough. They provided a highly cost-effective alternative to single dowel bars.

Client Department of Transport
Consulting Engineers Staffordshire County Council, Scott Wilson Kirkpatrick
Contractors Birse Construction (Phase 1A), Kier/Christiani (Phase 1B)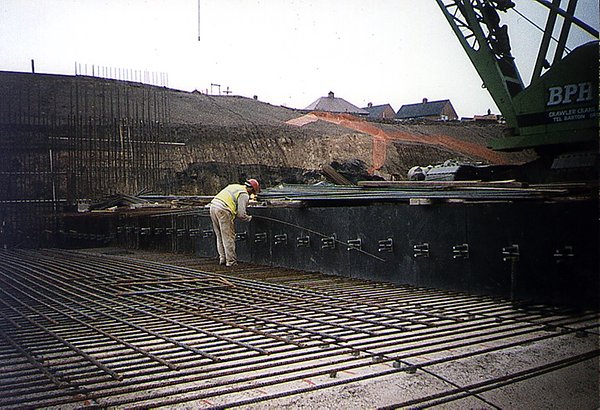 As a future-oriented, innovative company Leviat focuses on the ever-changing requirements of the industry, and our latest development combines the portfolio of Ancon and Halfen Tension Systems to ensure we meet the individual requirements of our customers.
Materials, products and services define how our world is built and is why Leviat is gearing up to sponsor and showcase an incredible line-up of innovative solutions from its world leading range of connecting, fixing and anchoring products at Futurebuild 2023.