Leviat Appoints its First Ever Environmental & Sustainability Engineer
Jess Marsh is at the start of her career as Leviat's first ever Environmental and Sustainability Engineer based at the world-leading construction accessory company's UK head office in Sheffield. She is looking forward to supporting Leviat on its journey to a net zero future.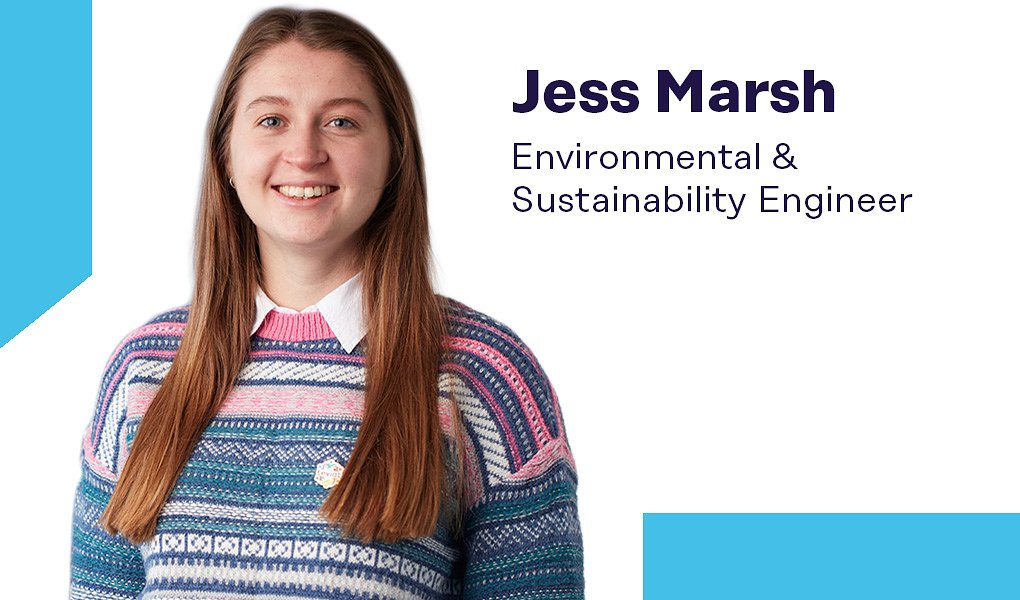 Jess graduated from Hull University in 2021 with first class honours in Business Management with Sustainability. "I am passionate about protecting the environment; it was a personal concern that grew into a career path for me," she recollects. "Every day I would be thinking, 'Am I doing enough? What more can I do'? Global businesses have the scale and capacity to effect considerable improvement in environmental and social sustainability. I believe working for a world-wide solution provider is where I can help to make the biggest changes and to realise my passion for the environment."
Jess is based in our Sheffield office and comes to Leviat from the Kexgill Group, a Pan-European real estate and student accommodation operator where as the Group's Sustainability Campaign Manager she operationalised her final year thesis that researched student values and sustainable accommodation.
"A role in the construction industry intrigued me," she recalls. "I have come from a sector where change was relatively easy, this role in the construction industry will bring with it new, greater challenges but with the potential to create much greater sustainability value."
As a leader in the industry, Leviat, a CRH company, has a long track record in successful emissions reduction initiatives. CRH recently announced that it has raised its industry-leading decarbonisation ambition even further. CRH has revised its target to reduce Group-wide CO2 emissions by 30% by 2030, supporting their longer term ambition of becoming net-zero by 2050. This target, covering all activities across the Group is supported by a series of validated targets by the Science Based Targets initiative (SBTi), in line with the new framework to limit global warming to 1.5°C. In order to play its part in meeting these objectives, Leviat created a full-time environmental and sustainability engineering role, underlining its commitment to reach its sustainability goals.
Leviat is rethinking and redesigning its products and processes to support the transition to a low carbon economy. As a result, it works to support a more sustainable circular economy. It prioritises resource efficiencies including the use of materials with high recycled content and the recyclability of its products after a long service life. Jess will be looking at Leviat's specialist product ranges in order to meet future industry legislation and requirements. "Leviat is committed to continuously improving its sustainability performance so I have no doubt we will achieve our goals," Jess notes.
Demand for sustainable products continues to grow and evolve, Leviat recognise that it is responsible for making these construction solutions available to the market in order to contribute to the development of smart cities. It has already helped its construction partners deliver some of the most energy-efficient structures in the world!
Leviat's sustainability performance has been measured and reported for the past seven years. Through CRH it reports its CO2 emissions in line with the Greenhouse Gas Protocol including Scope 1 for direct emissions and Scope 2 for indirect emissions from purchased energy. Scope 3 emissions measure indirect emissions from sources Leviat do not own or control. "I have identified areas where we can reduce our Scope 3 emissions so I have already started conversations with our packaging company to see where improvements can be made, and I am investigating our delivery process, where I hope to implement further improvements."
"Leviat already have electric vehicle (EV) charge points and a cycle to work scheme in place so I can build on this and look at our own small fleet to see if it can be more sustainable."
She also plans to further communicate with Leviat staff to include them in the whole strategy and increase the level of employee engagement to make an impact outside of the 'office'. "I am keen to implement a 'sustainability week' into our current programme, which already includes an exciting inclusion and diversity programme" she explains. A focus on sustainability will hopefully give people ideas of what they can do both in and outside of work to be more sustainable. I want to encourage people to make changes and when people are armed with the right knowledge, this can happen."
"I believe people do want to make changes, but don't always know how to go about it. They just simply don't know what to do and may be scared or unsure of how to take that first step. If I can show people what those first steps look like then hopefully it can ignite further change. We are already seeing the impact of climate change, it will not just affect populations in the southern hemisphere, it will impact us here too."
Jess believes that changes in government policy is the quickest way to ensure change happens. "It is about getting the balance right so we are all working in the same way towards the same goal. By leading this change Leviat can demonstrate to the sector that a net zero economy is more than just an aspiration, it can be a reality."
Sustainability can be seen as an expensive alternative, but Jess believes that in the majority of instances you can achieve cost reductions. "With energy rates increasing, by making energy reductions and bringing clean energy sources in-house it is possible save money in the long term."
For the moment, Jess' role is UK focused, but her remit could potentially expand to cover more of Leviat's locations across the globe. "This is a new role created by Leviat and, by not relying on a consultancy and by bringing this full-time role in-house, they are recognising the importance of their part in creating a more sustainable future. They have set some ambitious targets and I am initiating some exciting projects which will take us a long way towards meeting our targets in the UK." concludes Jess.
As a future-oriented, innovative company Leviat focuses on the ever-changing requirements of the industry, and our latest development combines the portfolio of Ancon and Halfen Tension Systems to ensure we meet the individual requirements of our customers.
Materials, products and services define how our world is built and is why Leviat is gearing up to sponsor and showcase an incredible line-up of innovative solutions from its world leading range of connecting, fixing and anchoring products at Futurebuild 2023.